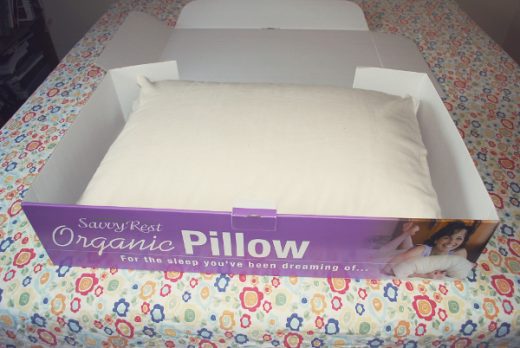 About the same time I got my new bed I also got a new pillow. Hurray! Before getting to test drive the Savvy Rest Shredded Latex Pillow you see above I was using some organic cotton pillows that frankly were not that comfortable. In fact I was using two of them at once because they tended to get flatter and flatter with each passing day. I ended up passing my pillows on to my daughter, along with my old bed actually. While neither is that great IMO they are better than what she currently had. Why is it that kids pillows always end up stained and gross even if you have rules about food in the bedroom???
Anyway, Savvy Rest sells lots of organic and natural bedding products including natural mattresses. When my pillow arrived it came over stuffed so I had to remove quite a bit of the shredded latex filling. I ended up bagging it and it will hang out in my closet until I figure out a way to reuse it. It is super soft Dunlop and natural Talalay latex rubber that is shredded into tiny pieces. I am am not big on the big blocks of latex that make up contoured pillows so this seemed like the perfect compromise. The cover is organic cotton.
I have been using it for a few weeks now and I quite like it. Being able to add/remove the filling allows you to customize it to your preferred comfort level. If you like a firm pillow no problem. If you like a soft pillow that is no problem either just remove the fill as needed. I find that I needed to remove quite a bit since I have a memory foam mattress that I tend to sink into. I imagine I could make another pillow with what I have left over. ;) Plus the cover is removeable so that it can be washed if it gets dirty.
Helpful Links: Savvy Rest on Facebook  | Savvy Rest on Google+  |  Savvy Rest on Pinterest
I have a giveaway for US readers. If you would like to win a standard size, shredded latex pillow then fill out the Rafflecopter form below. A winner will be selected at random. Good luck!
a Rafflecopter giveaway

Disclosure: I received a free pillow to review for this post but my opinions as always are my own.