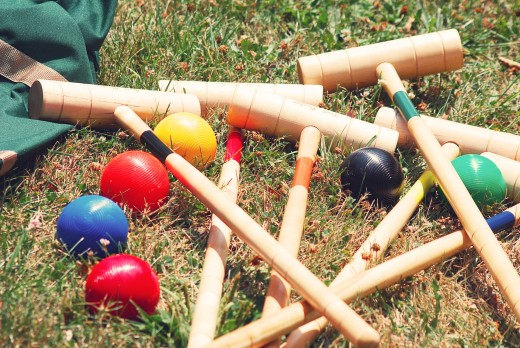 Sadly at the height of summer this year it was just too darn hot to spend much time outside. I started to think I was back in my hometown of Phoenix, Arizona rather than in Central Ohio. It was so hot that my kids ended up playing video games and watching TV way more than normal. The temperatures were too high and the normally cool, soft grass was dry and crunchy. Our lawn still hasn't recovered. Ugh.
The weather of late though has been wonderful and I am hoping for a mild Fall so that we can make up for lost time…and spend lots of it outdoors, playing. One activity that brings back memories of my own summer fun is croquet. My grandmother had a vintage set that I played with for hours upon hours with my younger brother and cousins. So I was excited when Down to Earth Toys offered to send us a croquet set for us to review and enjoy. The store has been selling high quality, natural toys for years and we have enjoyed several of their products over the years, including this wonderful SpellMaster.
The croquet set was just what I remembered. All wood, made with classic bright colors, and oh so fun to play. My kids and I were excited to give it a try. Even if some of us didn't quite dress for the occassion: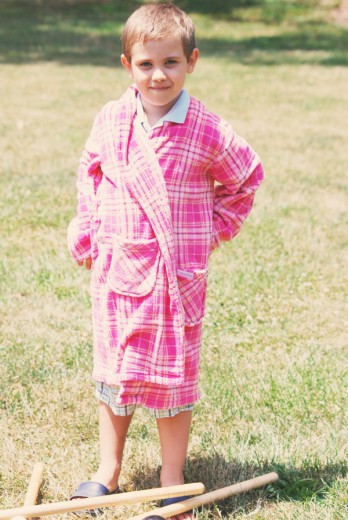 We had to read through the instructions together first to see how to play (since I did not remember) but after the first game we played together my own kids ended up doing what I always used to do when I was a kid…invent their own game/rules. Whether you play a structured or game or make up your own it always fun to hit balls through an obstacle course.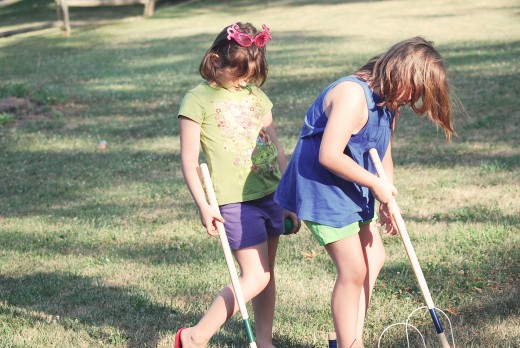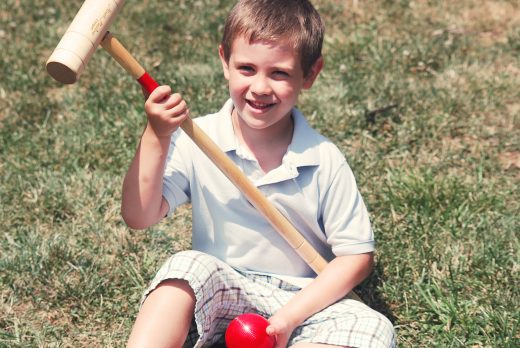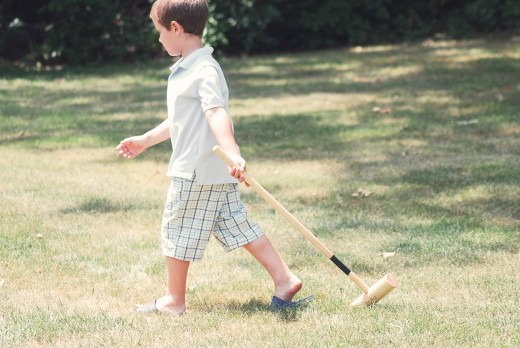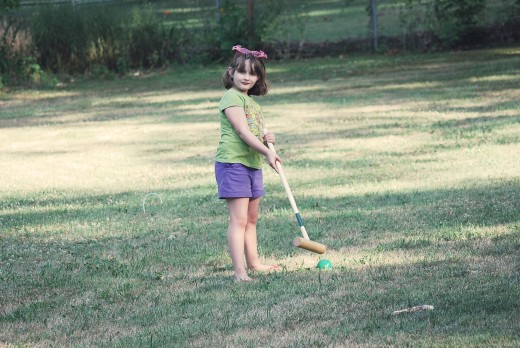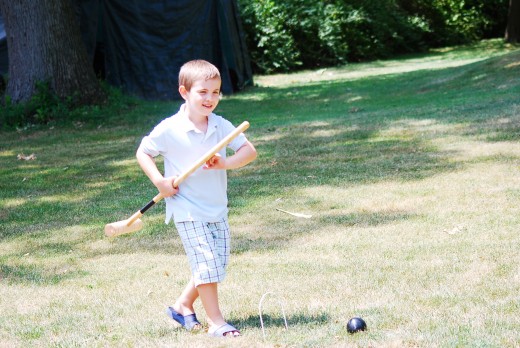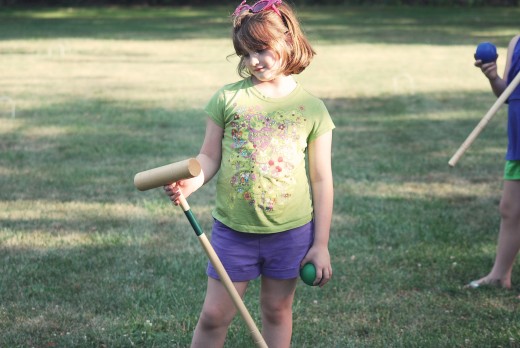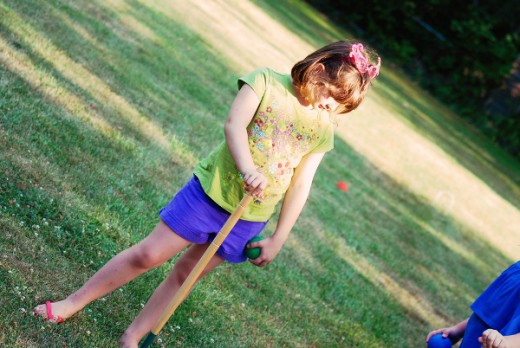 The set itself is very high quality and will last for years and years, as most wooden toys do. I know my grandmother's set seemed indestructible. My brothers and cousins and I all played with it for years, every single summer. It lasted right up until she died and it was auctioned off. I wish I snagged it back then but it didn't occur to me that I wanted to create those same wonderful summer memories with my own children, until later. That is why I think this set has so much value in my eyes…it helps us to recreate the fond croquet memories so many of us have from our own childhoods. Of course it is also great for teaching hand eye coordination and good sportsmanship. Kids of all ages, even small ones, love to play.
This hardwood, six-player croquet set includes six maple mallets with 32″ handles, two 24″ goal posts, nine indestructible heavy steel wickets, six 3-1/4″ polymer balls, a canvas storage bag and complete instructions. Down to Earth has toys made in the USA so you are supporting American businesses when you buy.
The price ($144.00) seems kind of steep at first but I know that set will get much use over the next few years and unlike so many conventional toys and games I know it will last for many, many more. I have no doubt that someday my grandchildren could be playing with this set on my lawn and creating fond memories of summers at grandma's house.
Do you have croquet memories from your own childhood?