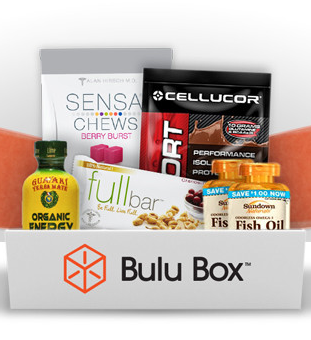 I have made it no secret that I adore the idea of subscription boxes with monthly goodies. I have tried many of them, mostly related to healthy food products and eco friendly products. Each month it feels like you have been given a wonderful gift (even though you bought the boxes) and going through them and trying everything is super exciting and fun. It is also a great way to try products sample sizes affordably and see how you like them before you buy certain products at full price. I have discovered lots of great stuff because of these box subscription services… tooth powder, shampoo, herbal soaps, snacks foods, and many other goodies.
That said I have long wanted to try a Bulu Box and crazily enough have yet to drop the hammer on that one. I guess it is because I am so picky about food (no grains) and supplements (high quality only) and don't want to be disappointed but I seriously have to try this one. It is the first box subscription dedicated to superior vitamins and supplements for men and women and with how expensive many of these products are (my fave fish oil is $60+ per tiny bottle!) this is an awesome way to get to try some new products without breaking the bank. They are also supposed to be superior products so none of the crap you find on clearance at big box stores.
About Bulu Box

The Bulu Box is the perfect example of try before you buy. Each month you are subscribed you will get a box with samples to try, along with coupons and discount codes for full-size products.  Try 4 to 5 nutritional samples monthly before you buy and discover what works best for you and your body. Watch the video to learn more.
Right now you can GET YOUR FIRST BOX FREE! All you do is sign up at Bulu box and use the code 1FREEBOX and your first month will be free. You can cancel anytime but you might want to stick around and check it out because I have heard that they have had some pretty worthwhile boxes.
The Prizes
1 year Gift Subscription ($120 value) AND a 1 year subscription ($120 value)… winner will get a 1 year subscription and can give a 1 year subscription to a friend.
Perfect Giveaway right before the Holidays…you have a gift to give a friend!!
The Giveaway will open up on 11/28 at 12:01 am EST and Close on 12/12 at 11:59 pm EST. Enter via the Rafflecopter below. Good Luck!
Blogs are not responsible for prize fulfillment. Sponsor will be sending the prize. Winning entrant will be emailed and be given 48 hours to respond before another reader is chosen. Giveaway is open to US residents only. Complete giveaway terms and conditions.