The other day I was searching for a few children's gift ideas and card ideas for Valentine's Day that did not feel cheap and junky. It seems to me that most gift ideas nowadays are plastic and cheap looking but I wanted some ideas with a "classic" or "vintage" feel…throwbacks to simpler days when gifts were made to last and be treasured. I also wanted something candy free and I think I managed to find a few treasures that fit the bill. These were some of the gift ideas I bookmarked: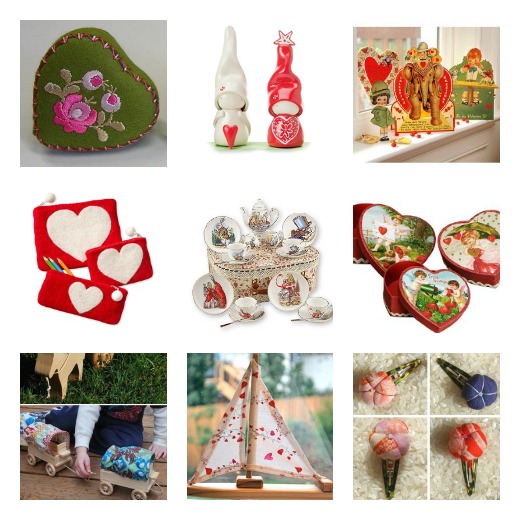 1. Felt Heart Boxes – These felt boxes are shaped like hearts and can hold small treasures. I also love the vintage, homemade feel of them. They look like something my grandmother would have owned.
2. OM Heart Figurines – How adorable are these?? Each of these little hand-molded clay statues has a name and a story, and stands as a totem for love.
3. Vintage Valentine's Day Cards – These beautiful cards are works of art and they are 3D with moving parts so truly unique. I just adore the elephant one.
4. Felt Heart Pouches – Your kiddos can use these for pencils, money, or virtually any kind of treasure. The pouches are handmade of Nepalese wool felt with a heart motif and a zipper pull. Fair trade.
5. Alice in Wonderland Tea Set – If your little one loves tea parties then he or she will love this tea set inspired by the classic children's book.
6. Heart Shaped Nesting Boxes – Each box has a special message! Place small treats and treasures in these lovely heart boxes with nostalgic vintage-style images and ribbon edging.
7. Gypsy Caravan – A lovely gift for either a boy or a girl this set is whimsical and cute. Ithas a richly printed cover and a small hitch on back to attach a wagon train. The wagon is pulled by a solid wood horse and driven by a solid wood gypsy/pioneer/outlaw.
8. Heat Sailboat – Love this!! Give your little sweethearts a sweet sailboat. This little boat is sturdy enough for a small child and can be used in the tub, or any body of water. A safe and non-toxic alternative to plastic bath toys, and for outings to the puddle filled park.
9. Vintage Hair Clips – These are fun and practical with a vintage feel for your classy little lady. They are hand-crafted from vintage Japanese silk kimonos and are shaped as "ume" or Japanese plum blossoms. Plum blossoms are a favorite motif in Japan representing early springtime. Each hair clip is one-of-a-kind.