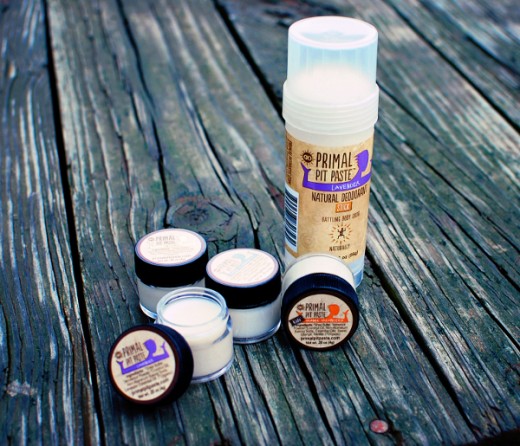 Attn: Giveaway the bottom of this post!
Deodorant is a hot topic among crunchy, natural, health-minded folks. Conventional deodorant has lots of nasty ingredients and more than one report coming from the scientific community has hinted at a possible link between the nasties in deodorant and beast cancer. Just a quick gander at breast cancer rates and you may soon find yourself freaking out about what kind of deodorant you are using. Think about this tidbit. It is said that it only takes 26 seconds for a body care product to be absorbed into our bloodstream. That should make us very aware of what we use on our skin, no?
Putting toxic chemicals under your arms stinks! That's why MightyNest, an internet retailer of extraordinarily high quality and safe products for your home and family, asked me to put non-toxic Pit Paste to the test. Find out why you should choose a natural deodorant, then take the pledge below. Your pits will thank you, and you could win a Happy Pit Pack from MightyNest!
But I digress…
No one wants to smell bad, especially a woman. Yet we are are the ones getting breast cancer for the most part so we have to take special care that we are not slathering our pits with carcinogenic products or ones that will mess with our hormones (think parabens). We want to smell nice and we want a safe way to achieve that goal. The answer quite clearly is to use a more natural product right?
Well, yes.  The problem for me though is that I have tried oodles and oodles of deodorant products that make the claim to be healthier and safer. Some of them actually did fit this bill. The problem though is that they didn't work . After a couple hours their odor fighting ability cancelled out and left me thinking that I must go back to the toxic stuff. I won't name brands but I have literally tried several dozen natural deodorants and never ever found one I liked until Primal Pit Paste.
I have been using it for about  a week now and I am one happy camper. The ingredients are all natural: organic shea butter, organic coconut oil, organic beeswax, organic arrowroot powder, aluminum free baking soda, and essential oils.  The Lavender scented stick is my favorite but the orange creamsicle is also really, really nice. You put it up against your skin (and body heat) for just a few seconds and then it glides on easy and provides pit protection all day long. Work, gym, life…it has you covered.
Mighty Nest also has a pretty cool  campaign going on right now. You can win $1,000 for your school in MightyNest's Earth Day Challenge going from April 7th through April 22nd (Earth Day!). They know that simple actions can have a mighty impact. This could be sending waste-free lunch to school with you kidlets or using reusable bottles instead of bottled water. Planting seeds in a school garden. These things contribute to healthy, engaged kids and also benefit our broader communities and the health of the planet.
Join MightyNest in celebrating Earth Day by taking simple pledges and actions to earn  Impact Points. The school with the most Impact Points earned between April 7th and 28th will win $1,000. Another $3,000 in prizing will be divided between nine additional schools. (See site for complete rules.) And every school community benefits when families get engaged. And schools also earn cash through our MightyNest for Schools program. Shop any of our essential gear for a mighty life, we donate 15% of your order to the school of your choice.
So celebrating Earth Day with MightyNest is a win-win-win: mighty family, mighty schools and mighty planet!
The Giveaway!
One lucky NatureMoms.com reader will get the following prize: sample pack of deodorants (several scents), Lifefactory glass water bottle, Dr. Bronner's coconut oil, Go Toob reusables travel tubes (set of 3), Preserve razor and extra replacement cartridges, Planet Wise wet/dry cosmetics bag, and Dr. Bronner's organic shave gel. Value = $ 107+.
Now you know — there's a natural deodorant that not only works, it's also completely safe for your body. So, pledge to green your pits and you could win a Happy Pit Kit from MightyNest. You'll also have a chance to help your school celebrate Earth Day and win up to $1000 in the MightyNest for Schools Earth Day Challenge! Good luck!
Everything we do at Mightynest is about inspiring, supporting and rewarding simple changes for mighty living. our site provides ideas, tips and information about healthy changes. all the products we offer are selected as the healthiest of their kind, in addition to being practical, durable and beautiful. and through our school program parents and other supporters can earn funds and bonuses for their school.
With the Earth Day Challenge, MightyNest is mobilizing parents and schools to make healthy changes that benefit families and the planet. Until April 28th, school supporters can earn impact points at schools.mightynest.com by pledging to make simple changes. The school earning the most points will win a $1000 grand prize and other top schools will share $3000 in additional prizing.
Disclosure: This is a sponsored post on behalf of MightyNest. All opinions, as always, are my own.