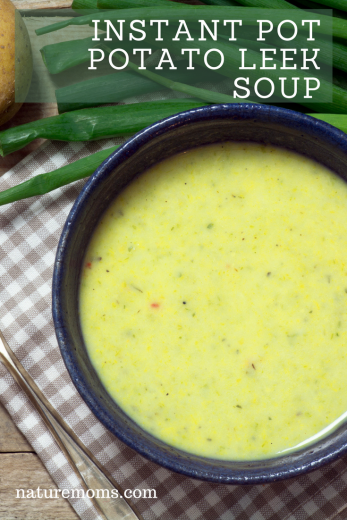 Leeks might just be my favorite thing ever…after ramps, which are wild leeks so it is kind of the same thing. Give me some fresh leeks and I start to salivate at the thought of carmelized leek and bacon pizza, chicken noodle soup with leeks, and of course potato leek soup.
We are still experiencing some chilly spring days so soup is just what I wanted this week. I used to cook this soup in a cast iron dutch oven but I have since started using the Instant Pot for this meal. Quick, easy, and delicious!
Here is the recipe:
Instant Pot Potato Leek Soup
Ingredients:
2-3 Large leeks (chopped)
1lb Potatoes (cubed)
6 Cups chicken stock
1/2 lb Bacon
3 Tbsp Garlic (minced)
2 Tbsp Fresh or dried dill
4-8 Ounces cream cheese
1 Cup heavy cream or half and half
1-2 Cups cheddar cheese (shredded)
salt and pepper
Instructions: Cook the bacon until crispy and set aside. Pour bacon grease into the Instant Pot and press the saute button. Once hot, toss the chopped leeks in and sautee them until soft. I use both the white and the greens of the leek. Once soft, add the garlic and saute another two minutes. Turn off the saute feature.
Add the chicken stock, potatoes, 1 Tbsp of the dill, and a healthy dose of salt and pepper. Seal and cook on manual for 8 minutes. Allow the pot to naturally release the pressure for 15 minutes.
After 15 minutes finishing releasing the pressure. Use a ladle to scoop out 2-3 cups worth of the chunky soup and set aside. Add the cream cheese, heavy cream, and remaining dill to the pot and use an immersion blender to to blend well. Add the soup you set aside back to the pot and use the immersion blender again but only a few quick passes. We want the soup to be creamy but with a some small chunks.
Serve with shredded cheddar cheese and chopped bacon on top. Enjoy!