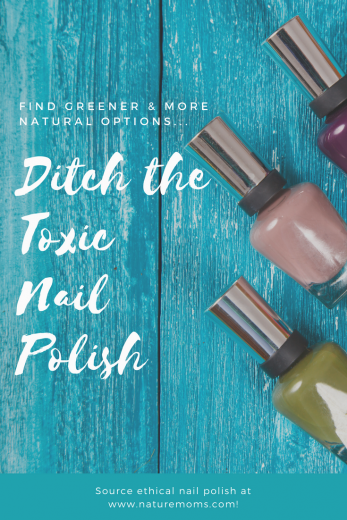 I was not surprised when I did some research awhile back on cosmetics, that nail polish is one of the worst offenders for nasty, toxic ingredients. I am not big on cosmetics or even nail polish but occasionally I do like to spruce up my toes with some candy apple red nail polish since my preferred footwear is the flip-flop. And my daughter, who is totally girly would love to wear it all times but I couldn't in good conscious let her wear it too much if it were as nasty as some research has said. Also, some of the ingredients would be especially bad for little girls.
Some of the ingredients of conventional nail polish are scary…Dibutyl Phthalate (DBP), formaldehyde and toluene. Dibutyl Phthalate is a plasticizing ingredient known to affect hormone function. Studies have linked phthalates to early puberty in girls, uterine problems in women, low sperm counts in men, and birth defects. Toluene is said to cause liver damage, reproductive and developmental problems, skin irritation and respiratory tract irritation. Formaldehyde is a carcinogen and inhaling the fumes can result in watery eyes, headache, burning in the throat, and labored breathing.
Just think about it…these toxins are dangerous when breathed in and nail polish is one of the smelliest beauty items around. Just think about how strong smelling it is in a nail salon. That stuff is potent. And this doesn't address the toxins making their way into your body through your nail bed. Almost all brands of commercial nail polish contain toluene and formaldehyde and many contain Dibutyl Phthalate…except in progressive countries like the European Union which has banned all phthalates.
So are we dying to look good? I kept thinking about this as I found my 14 year old daughter painting her nails the other day. After the initial cringe I decided to see if I could find some safer nail polish online. I was happy to find that there are a few options.
Just to be clear, there's no such thing as "green" nail polish, at least not in the way we'd expect from, say, a skincare product. Ultimately, it's paint that adheres to your nails and lasts for several days, so it's not ever going to as easy as finding a polish that uses nothing but crushed berries. The best you can hope for is having it be free of the most common nasties. Many polish companies are now using verbiage such as 5-free for 10-free to show how many of the common nasties are NOT in their products. 10 free is about the best you can get.
Non Toxic Nail Polish
Zoya – 10 Free and many claim it stays on just as long as shellac but it can chip fast as well.
Little Ondine – water based peel off paint so you don't need remover either. No odor.
Pacifica – 7 free, very low odor, lasts a super long time. The rose gold is gorgeous!
Butter London – One of the few polishes I actually own. 8 free and the colors are mature and lovely. The Mint is to die for.
HoneyBee Garden Nail Polish – No Formaldehyde, Phthalates, Toluene or other petrochemical solvents. Completely Water Based.
100% Pure – 10-free nail polish. All natural, organic formula which is free of the common carcinogens in most nail polish.
Habit – 5-free polish, vegan. I love the wooden lids!
Karma Organic Nail Polish – No Toluene, Formaldehyde, or DBP – vegan, and no harsh odors, chip resistant & durable.
Piggy Paint – Non toxic nail polish for kids! Moms like it too though. ;) Fun colors…
Non Toxic Polish Remover
Suncoat Natural Nail Polish Remover – Earth friendly product which is 100% Soya and Corn based. It is naturally derived from farm crops and does not contain any petroleum ingredients. Non-toxic, non-carcinogenic and is also readily biodegradable.
Sante Nail Polish Remover – Acetate-free Nail Polish Remover, based on organic ethanol and orange oil. Ingredients: Alcohol, citrus dulcis, ricinus communis, aqua (water), parfum (organic orange oil).
No more cringing when my daughter paints her nails!