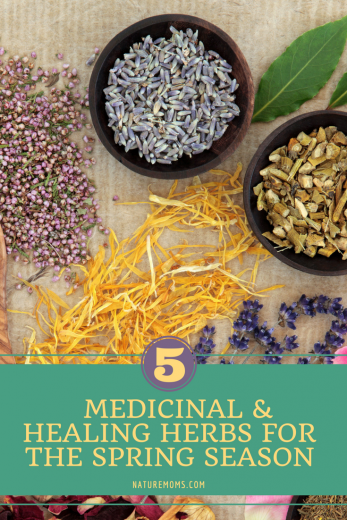 Herbs aren't just for adding to salads and for seasoning your food. Many also have natural healing abilities. When spring rolls around, it is a good idea to look for herbs that grow during this season, as they are easier to find and often more potent. Take a look at some of these spring herbs that have amazing medicinal qualities and uses.
Calendula
This lovely herb/flower has some unique health benefits that are perfect for what ails you this time of year. Calendula contains phytochemicals, which are great for helping to protect you against bacteria, fungi, and viruses. It can also help with cuts, scrapes, bug bites, as well as burns, which tend happen when you spend regular time outdoors. Other healing benefits of calendula include helping with acne and eczema, pink eye, ear infections, and sunburns.
Mint
Mint is a super easy herb to grow at home and it is easy to find and easy to care for. It will make your backyard, porch, deck, or kitchen smell great, and can be used for cooking and healing benefits. Just imagine the minty smell it will bring to your yard and all the delicious mint teas you can make. You can also use it to make your own DIY skincare and beauty products (ie mint sugar scrub), so there is a long list of uses. Many of the health benefits of mint come from the fact that it is soothing and refreshing, perfect for warm spring weather. Use this healing herb on your sunburns, to reduce fever, or  for other skin issues during the spring. Add it to your food or beverages to help with indigestion and morning sickness.
Dandelion Root
Dandelion root is often found year-round in mild climates, but it tends to grow wild in the spring. Dandelions are typically the first food for bees. If you have a yard, you probably see it growing everywhere without ever having to plant it. All parts of the dandelion plant can be used, including the leaves, flowers, and even the roots. Use dandelion root when you need to detox your body, make your own healing tonic, or to help boost and support liver and gallbladder function. It is also rich in vitamins, minerals, and protein. Vitamins K, C, D, and B, iron, manganese, phosphorus, and potassium can all be found in this powerful herb. Just make sure you not sourcing them from a lawn sprayed with chemicals. If you have an abundance of dandelions make sure to check out this dandelion cookbook! Good stuff!
Plantain
You might know this herb for its ability to grow in sidewalk cracks and crevices. Not only can you eat it, it is a powerful anti-inflammatory that can be used for bruises, wounds, stings, bites, and gut health issues. It is a liver cleanser, diuretic, and it helps out your kidneys too. Use is as a poultice, in infused oils, salves, teas, lotions, and tinctures.
St. John's Wort
The best thing about St. John's Wort, aka the feel good herb, is that it helps with both physical and mental challenges you might be facing. Many of us suffer from the winter blues or seasonal affective disorder. This herb can help! If you tend to get depression or anxiety, look into it. It can also be used in salves for many physical issues, including helping reduce pain and tension in your muscles, and treating sunburn or skin wounds.
** For more help with herbs and herbal identification check out the Botany & Wildcrafting Course, curated by the wonderful Herbal Academy team of herbalists and botanists. To give you an idea of what is included in class, lessons cover topics like using the dichotomous key for plant identification, identifying botanical families and patterns in nature, drawing herbs, making a pressed herbarium, wildcrafting for wild edibles and herbs, drying herbs, and much, much more. If you too are interested in learning more about botany and foraging, check out the course page.