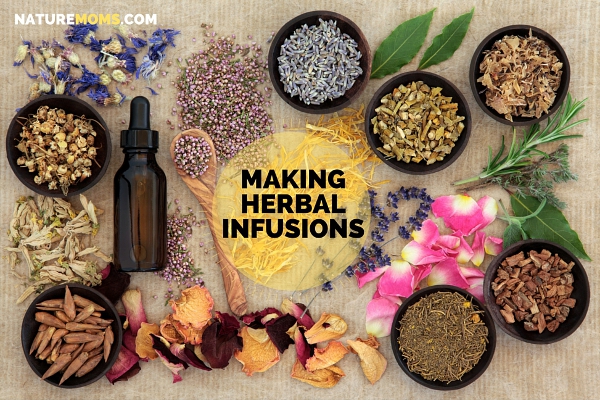 There are a variety of ways that we can tap into the ancient practices of using natural remedies to heal and stay healthy. Some of the techniques involved in leveraging herbal remedies include compresses, decoction, ointments, infusions, poultices, syrups, tinctures, and tonics. This article will discuss two in particular and perhaps the easiest ways to use herbal remedies…infusions and decoctions.
Quite simply and infusion is a hot or cold drink made from the leaves and flowers of herbs. A decoction is a hot or cold drink made by boiling the roots, bark, or seeds of herbs. Both methods have a variety of medicinal uses such as the alleviation of common cold symptoms, relief from headaches, and much more. Even if you think you are far from calling yourself any kind of herbalist you can get started with infusions and decoction pretty easily, with a little knowledge of what the different herbs can do for you.
Making Herbal Infusions
Infusions can be made by steeping fresh herbs, the leaves and/or flowers, in hot water. They are so beneficial because they bring out the vitamins, enzymes, and aromatic oils in the herbs. Two popular choices for infusions are peppermint leaves and chamomile flowers. After steeping you strain the herbs out and add some honey to sweeten and make your infusion more palatable. You can store any unused portion in a glass mason jar in the refrigerator for up to two days.
Herbal Nightcap Infusion
1T dried chamomile
1T dried lemon balm
1T dried linden flowers
Infuse in a cup of hot water for 5-10 minutes, strain, and enjoy the sedative effects of these calming herbs.
Making Herbal Decoctions
Decoctions make use of herbs that are a bit tougher to utilize. You boil the roots, twigs, dried berries, bark, or seeds of the herbs and soften the woody parts so that the minerals and alkaloids from within can be accessed. In a decoction you might boil ginger or ginseng root, cinnamon bark, or fennel seeds. You can store any unused portion in a glass mason jar in the refrigerator for up to two days.
Respiratory Rescue Decoction
2-3 sticks of cinnamon (broken into pieces)
1 inch of ginger root (peeled and sliced)
1 T honey
Simmer the cinnamon and ginger in a pint of water for 15 minutes. Strain, add honey, and drink every day when experiencing a cold or other respiratory issues.
Beneficial Herbs for Infusions and Decoctions
Nettle
Clove
Ginseng
Feverfew
Burdock
Cinnamon
Ginger
Peppermint
Elderflower
Comfrey Leaf
Marshmallow Root
Skullcap
Enjoy!