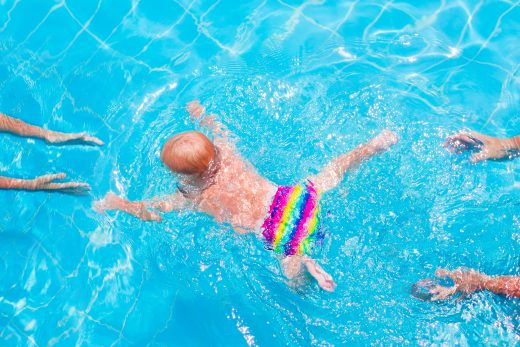 Participating in formal swimming lessons can reduce the risk of drowning for children aged between 1 and 4 years by about 88%, according to NCBI. While children who can swim tend to be safer in the water, they are not drown-proof. As a parent, you should teach your kids respect for water at an early age. This step helps you to keep your children safe when they're swimming in the pool or ocean. Typically, children learn respect for water during swimming activities. As they begin to understand their strengths and weaknesses in the pool, they know how to stay safe in the water. But how do you instill respect for water in children and help them become more confident when swimming? Below are simple tips for raising water confident children.
Make Swimming Fun
The key to raising water confident children is making swimming lessons fun. Singing and playing fun games like I Spy while you swim helps the kids feel relaxed. Also, use play balls, sinking items, and floating toys in the pool. For example, throwing sinking toys like dive rings and sticks in the water helps kids immerse their eyes in water without the fear of drowning. Since these toys stand up in the water, have easy-to-grab and large gripping surfaces, kids don't have to swim down farther to reach them. Floating toys, on the other hand, are perfect for practicing arm extension. A ping-pong ball, for instance, has to be grabbed overhead with the arms out of water. This move helps kids learn the crawling movement with ease.  
Teach Independence But Don't Overlook Supervision 
Teaching your child independence in the pool is a sure way to build their confidence. So encourage your child to engage in shallow water exploration like crawling and floating. Underwater turning is also an excellent activity to teach your kids how to stay safe in the water by returning to the ledge or side of the pool. As a general rule, these independent swimming activities should be done under strict supervision. Supervision is crucial for preventing swimmers from drowning, so don't leave the kids unattended while they practice. Ensure you're inside the pool with them and reward small efforts. For instance, if your child feels uneasy swimming to you, step closer and don't push back once they push off. Instead, praise them for their little success and encourage them to do better next time.
Make An Effort To Swim Often 
Regular visits to the pool help your children overcome the fear of water. Therefore, make it a habit to go swimming often and start when they're still young. When you expose young babies to water and splashing games, the feeling of water on their bodies makes them less fearful. Consider enrolling your kids in swimming lessons at your local pool. Most local facilities offer family swimming sessions and have small pools designed for babies.
Raising water confident kids shouldn't be difficult. You only need to make swimming a routine, have fun in the pool, and teach independence. As a parent, you should also build your confidence in the swimming pool because it's difficult to instill a respect for water if you're afraid to swim.