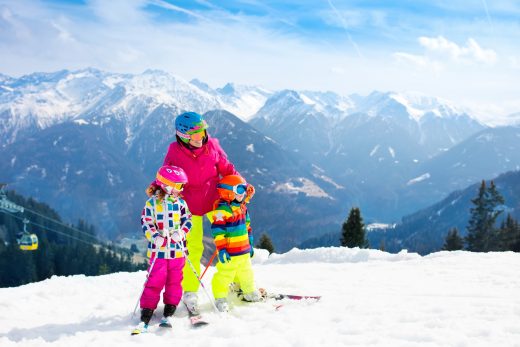 In the now iconic or possibly infamous words of Ned Stark, winter is coming, and that means kids will be home from school for their holiday vacations. That also mean that it's up to you, mom and dad, to come up with ways to keep your kids entertained. COVID makes that even more challenging, because going out and hanging with friends or taking a trip to the local playground isn't an option. 
With that in mind, here are some new games to try out this winter to keep your kids entertained without planting them in front of a screen for their entire vacation. 
You don't have to have the skills of an Inuit to build a really neat fort out of snow once it starts falling. Instead of spending your afternoons inside, break out the sand castle tools and start building a snow fort with your kids. You'll find that the buckets and shovels you use to build sand castles at the beach work amazingly well for moving snow without getting the kids snow gloves wet. 
If you want to get a jump on the fort before the snow starts falling, put out some structures to get you started, ones that will stand up to being buried in the snow. 
Socially Distanced Ice Skating
Ice skating is synonymous with winter activities, but many rinks are closed this year thanks to the COVID-19 pandemic. That doesn't mean that you have to skip skating this year. Look for rivers and lakes that freeze in your area and bring your own skates. You might be surprised how many good skating spots there are in your area if you just take the time to look. Make sure the ice is thick enough to support all the skaters. 
Experts recommend that ice needs to be at least 4" thick to support skating and other foot-based activities. If you're planning on bringing a snowmobile or car on the ice, it needs to be at least twice that thick. As an added bonus, getting out in the cold can help keep you healthy by preventing you from spending time with indoor germs and bolstering your immune system.
Edible Cinnamon Sugar Snowflakes
You don't have to say outside all winter. There are plenty of activities that you can enjoy inside too — and some of them are even pretty tasty. For these cinnamon-sugar snowflakes, all you need is some of your favorite tortillas, some butter, some cinnamon sugar, and a pair of kitchen-safe scissors. Fold the tortilla over a few times and cut patterns out like you're making a snowflake out of paper. Then unfold, butter, sprinkle and enjoy! You can even toast them a little if you want a crispier treat. 
Swedish Snowball Lanterns
Swedish snowball lanterns are a fun thing to do with the snow in your yard other than having snowball fights or building snowmen. Swedish snowball lanterns are a fun way to add a gorgeous and subtle glow to your yard once the sun goes down. All you need is snow and tealight candle (and some adult supervision for little ones). Build up your snowballs into a pyramid with a hollow center. Once it's built, add the tealight, light it and enjoy the gorgeous glow as the ice crystals diffuse the light. 
A yard full of snow can be a gorgeous winter wonderland — but the all white landscape can also get pretty boring after a while. Why not spice things up a little bit? All you need is some tempera paints and water! We're skipping the "painting the snow with spray bottles and food coloring" because all it does is melt the snow. Instead, use your snowy yard as a massive canvas, and paint right on the fallen flakes. Just don't forget to snap pictures before it melts away or the next layer falls.
It can be challenging for our feathered friends to find food during the cold winter months. Why not help them out a little? All you need is some apple slices, some peanut butter and some birdseed. Coat the apple in the peanut butter, then press it into the seeds until they stick. Repeat as necessary, then hang your new fully-edible feeders out where the birds can find them. Hanging them near windows where you can watch your feathered visitors is an added perk. See how many species you can name!
You really can never go wrong with scavenger hunts, though they do get a little more challenging when you're also contending with a snowy winter landscape. Try creating lists of items that your kids might find outside during the winter, or plant items in the snow that they have to dig for. You're only limited by your imagination — and the amount of time you're willing to spend out in the cold. 
Stay Warm This Winter
Whether you're building snow forts or staying inside and baking cookies, stay warm this winter and enjoy all this extra time you're getting to spend together as a family.