My fermentation repertoire is sadly limited up to now. I have thus far only made kombucha, kefir, yogurt, and sourdough. I have wanted for a very long time though to make other fermented foods. High on my list are sauerkraut, pickles, kimchi, ginger, and salsa but really I want to go wild with it. I love fermented foods and they are so very good for you. I credit fermented foods with helping me heal from the devestation wreaked upon my body by chemotherapy drugs after my bout with cancer. The drugs kill healthy cells and the healthy bacteria in the gut as well. Fermented foods helped me immensely, during chemo and after. They are now a big part of my family's diet and one of our weapons against illness. We just don't get sick very often and I credit all the fermented food we consume.
My love of Kombucha, and my disdain for the hefty price tag spurred me to make it myself. I would like to save even more by making more of my own ferments and I found the perfect guide to help me in this goal.
Last week I had the pleasure to meet a wonderful and knowledgeable blogger while at an activism and social media conference, Tamara from Oh Lardy. I have been a fan of her blog for a long time so it was awesome to meet her and even more awesome to hear her talk about fermentation and her new book… Oh Lardy's Guide to Fermenting Fruits and Vegetables. I was super excited to get home and await it's release, which was yesterday. I have already read it cover to cover. I love it!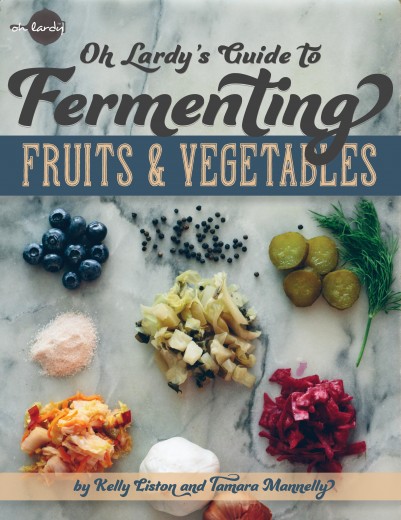 Not only am I exited to make all of the items on my wishlist (sauerkraut, pickles, kimchi, ginger, and salsa) with the provided recipes I am also excited to try those I never even heard of….Dilly carrots, mushrooms, fruit leather, and lemonade. The instructions are super clear so I am 100% positive that I can take these recipes and run with them and the photos are gorgeous. I hope my creations look half as nice!
In This PDF E-book, You Will Learn…
The importance of the roles gut bacteria play in your digestive tract.
The basics of the process of fermentation, how it happens and why.
The benefits of consuming fermented foods (there are so many!!)
What materials you need to ferment foods at home to get you on your way to becoming a confident fermenter.
How you know when you food is fermented and other frequently asked questions.
How to make almost 40 different recipes easily in your own kitchen; recipes your whole family will love!
What's Included:
This is a digital e-book, not a print book.  This e-book can be downloaded and read on your iPad, Kindle, smart phone, computer…almost any device!  You can read this e-book anytime, anywhere.