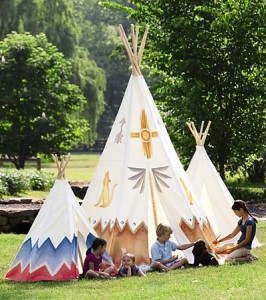 I am planning a short trip to Chillicothe, Ohio. Chillicothe has the wonderful outdoor Sugarloaf Mountain Ampitheatre where they put on an equally wonderful show called Tecumseh. It is the epic life story of the legendary Shawnee leader as he struggles to defend his sacred homelands in the Ohio country during the late 1700's. The stage is so vast that there is actually a herd of galloping horses that ride across and they use a live military cannon. After the show you can visit with all the actors and get your picture taken with all of them. When I was about ten years old I went to see it and I still have pictures of me and Tecumseh!
I told my son about it and of course he wants to go see it. I just hope it is not too violent for him as they do simulate alot of killings and scalpings. I think it important for him to know about this period in history.
To get him excited about the trip I was thinking of buying him a teepee to play in outdoors and I had a hard time finding one. I should have checked Magic Cabin first because they had just what I was looking for. My kids love playing in forts and play houses so this teepee should be great fun. They set up in minutes and may be used inside or out, as they are made from marine-quality cotton canvas that is both flame-retardant and mildew resistant.
The Family-Sized Teepee has ample room for even adults to sleep in. The Medium-Sized Teepee is a cozy spot for 2-3 children. It comes with a paint set so you can decorate your teepee with authentic Native American motifs and this is a great time to research the Native American tribes in your area to make sure the motifs are accurate. It also has a teepee organizer or a 3-pocket canvas storage hanger that can be tied to the interior poles of your teepee for stowing all your little tools and treasures.
You can also make your own teepee. I found some pictures and directions for making your own teepee from recycled materials.
A teepee looks like great summer fun and a great summer learning experience.