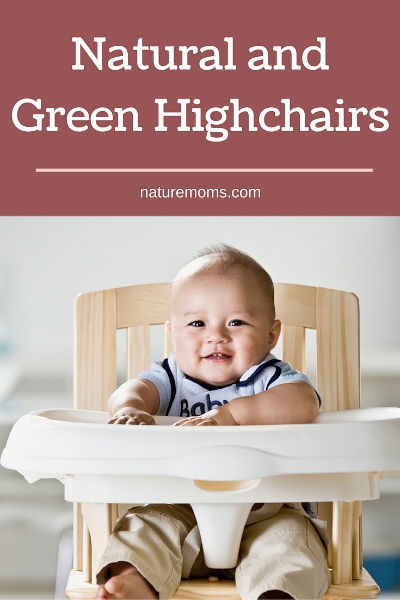 A reader recently asked me about natural/green highchairs and what I would recommend. This is an
awesome question and one that becomes important as we learn more and more about how certain plastics are just not safe for baby. Most conventional highchairs are made of plastic so therein we have a problem.
So….what natural and/or green highchairs do I recommend? I do in fact still have a child in a highchair and we opted to get a wood highchair…so that would be my first recommendation…wood before plastic. It will last longer and it is sustainable. My son has a restaurant style highchair and we love it. Even better, we got ours second hand at a yard sale. It is very good quality and will last a long time…it is too bad we won't be having any more kids. ;) For $45.00 at Amazon you can't beat that price at all even if it does have a not-so natural finish…you can always sand and paint using zero VOCs paints. The best feature is that it has no tray (no plastic) so you can just pull baby up to the table to eat with the rest of the family.
IF I did have another child and for some reason didn't have a highchair my first choice would probably be the Euro-Baby Family High Chair. It has a hardwood tray for little babies and then it converts to a chair that can be pulled up to the family table. And THEN in converts into two other size chairs…for children up to adult. SO really this chair can start out as baby's highchair and then wind up being their desk chair when they are teenagers. Well worth the investment as these chairs run right around $200.
But I might just as likely get a Tripp Trapp Highchair. It has no tray, it fits right under the family table, and it too converts into other size chairs so they can continue using it as they grow. There are also pads you buy separately that are gorgeous….like this artsy stripe print. I would use it to make a pattern and sew my own. :) These chairs also come in many great finishes and colors. The price is anywhere from $229 to $270 if you get a chair with a cushion and a baby rail.
I also like the Scandinavian Child Svan Convertible High Chair. All wood and all gorgeous! The chair is adjustable from baby to adult and you can get custom seat padding as well.
I hope I have given natural, expectant moms some ideas for highchairs. I suggest looking at yard sales and estate sales first for antique or used wooden highchairs. I see them all the time in my neck of the woods. If you do buy used just make sure to supervise your baby well because they might not be up to date on the latest safety features. If you want to buy new there are certainly some good options.