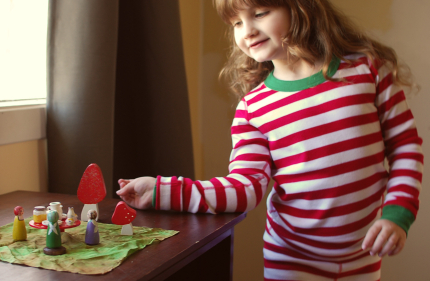 When I think about what I want my kids to get out of all the time they spend playing I realize that beyond learning and creating I also want something more for them… enchantment, magic, adventure.
To this day one of the most magical play moments I recall as a child was when I was about 8 years old. I was on an overnight trip, staying in my grandparents motor home. We were at a horse show where my grandfather and my Aunt were competing in the barrel races. While I was interested in watching them compete I was not so interested in watching the other 100 or so contestants so I had to find some way to occupy myself.
My brother and I decided to create a fairy and gnome village using sticks, leaves, branches, and nuts that were in the wooded area next to the arena. We made little huts, cottages, general stores, and a whole fairy/gnome world with our own rules and stories. I still remember how delightful and enchanting that day was. I was very sad to leave my fairy world behind.
That is probably why I have a soft spot for play that involves woodland creatures and little people AND why I love to buy those types of toys for my own kids, especially my daughter. Lucky for me she is just as enchanted with the fairy world and one of our favorite places to shop is The Enchanted Cupboard. They are on my Christmas list year and I wanted to share why we love the toys so much.
What you see above is a Fairy Tea Party. I wasn't into tea parties as a child but my daughter sure is and miniature tea parties are the best. Here you see Ivy, Rose, Jewel, and Ashlan eating muffins and sipping tea on a beautiful Fall day. The are dining on a mushroom cap table on top of a play silk, surrounded by trees and mushrooms. Heavenly, magical, enchanting… I love watching her play. Those fairies engage in some lively conversation but they also talk about the more mundane things like high car insurance rates. Who knew they would drive when they have wings?
All of the toys are wood and painted with non-toxic paints by hand. They are little pieces of art as well as toys. When my daughter is grown I know she will remember toys like these before she remembers plastic techie toys like they sell at big box stores. These toys have a story or rather they inspire you to create a story. I would have LOVED to have had these as a child. Just look how adorable they are. I want Ivy's hair!! If I could get away with turquoise and magenta hair I would be all over that…
My daughter has her eye on the mermaid dolls she saw in the store now. I think a blue play silk next to the tea party would be a lovely place for their mermaid friends to swim no? She also wants the laundry set. Oh sure.. laundry is glamorous when you are five…
And of course little girls aren't the only ones who are drawn to these toys. My little man likes them too or rather he likes to watch them as my daughter plays with them.
Most of the stuff you see is from The Enchanted Cupboard. This store was nominated for an eco toy of 2009 award and was recently seen on Nickelodeon. If I recall, a book is even coming out about them. Yeah, well I thought these toys were awesome BEFORE they got all trendy!
Notes – The tea set and some of the trees and mushrooms were sent to us free of charge, courtesy of Beccijo at The Enchanted Cupboard.  We love her stuff and have known her for awhile and I am always happy to highlight her latest toys when she sends them. The fairies and some of the other toys were purchased by us from same store over a period of time and one or two of the trees are thrift store finds. The play silk is from Beneath the Rowan Tree.
The Organic Holiday Sleepwear on my daughter I bought from Hanna Andersson.