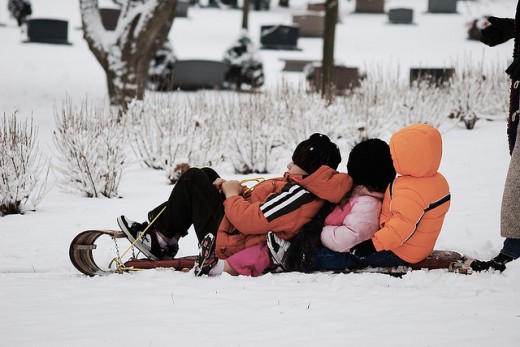 Christmas can be a budget breaker for many families but it really doesn't have to be. My husband and I are so conditioned that we now scour Craiglist, eBay, and our local thrift stores before we buy just about anything these days. We have come to HATE paying full price for anything when we know we can get such good deals and we can knock out our Christmas shopping list during a good estate auction or two. Just recently we bought a NIB wrought iron canopy bed for my daughter off of Craiglist, a microscope for homeschool off a local college student, and my husband picked up a large terrarium set-up w/stand and lights at an auction, for my son (well actually for a bearded dragon).
That toboggan my kids are on in the above picture… $10 at a yard sale!
Here is a quick list of some things that you should look for second hand on your local Craigslist or at thrift stores:
Bicycle
Telescope
Microscope
Dollhouses
Dolls
Children's Desks
Costume jewelry for dress-up
Books
Easel
Aquaruium
Reptile Terrarium
Stuffed animals
Video Games
Gaming consoles
Snow globes
Sporting goods (sleds, skis, rollarblades)
Camping Gear
Fishing Equipment
Puzzles
Board Games
CDs
Muscial Instruments
Music Box/Jewelry Box
Record Player
Frames (frame their favorite pictures)
Crafting Supplies
Motorized Ride-On Toys
Trampoline
Wagons
Rocking Horse
Marbles/Jacks
Play Kitchen
Old tractor tire (for a sandbox)
Legos
Do you have items to add?