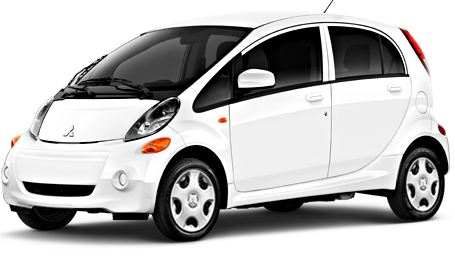 Well, if you happened by thinking I am giving away a car you will be disappointed. Of course I kept that prize all to myself… muahaha!!!
Well, it's nice to dream right?
Up until a few months ago, when I went to the North American international Auto Show with one of the major auto companies, I was clueless about what green cars were on the market. The green cars have always seemed out of my budget and truthfully they still are. BUT they are coming down in price which is good news for all of us. Soon enough it won't cost us more than we pay monthly for our home mortgage to have a great hybrid/electric or all electric vehicle. I am drooling at the prospect because the cars I saw at the NAIAS were GORGEOUS! But then again I am so far removed from the new car scene (I have a 2000 and a 1995 model) that I felt the new cars resembled futuristic space ships. Anyway the Mitsubishi i is going to be released soon and in honor of that the company has arranged a giveaway here. The prize details are below but here are some stats on the car…
The Mitsubishi i is a very affordable 100% electric-powered mass-market production vehicle available in North America very, very soon. The starting MSRP IS $29,125 and the net MSRP* after a federal tax credit is a very affordable $21,625 for the standard ES model and only $23,625 for the upgrade SE version, making the starting price for the all-new Mitsubishi i several thousand less than other comparable electric vehicles available in the market. I was at the NAIAS checking all prices and comparing all the green cars and I can tell you that this price rocks!!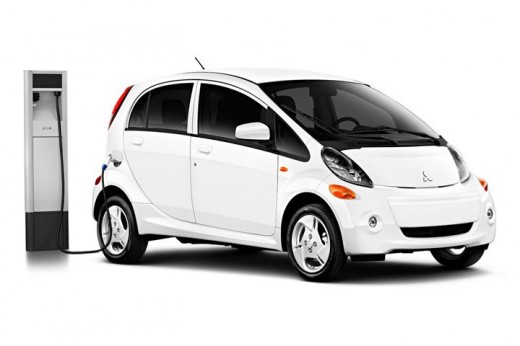 Powered by Mitsubishi innovative Electric Vehicle (MiEV) technology, the rear-wheel drive vehicle's drive system includes a 49 kW (66 bhp) AC synchronous electric motor; an 88 cell, 330V lithium-ion battery pack for a peak storage of 16 kWh; and a single fixed-reduction gear transmission. This electric motor is capable of producing its peak torque of 145 lb.-ft. almost instantaneously when accelerating from a standstill; the vehicle has a top speed of approximately 80 mph.
The driving range of the Mitsubishi i is a very robust EPA certified "real world" rating of 62 miles/charge. That would be perfect for many commuters and certainly for stay at home moms who need it for kiddie transfers and errands. The car can be recharged using three advantageous methods: A 240V/15A Level 2 home EVSE Eaton charging system (estimated charge time from completely empty battery to fully charged – 7 hours; charging method recommended by Mitsubishi), a CHAdeMO Level 3 public quick charging station (estimated charge time from very low battery to 80% full – 30 minutes; requires optional DC charging port available as an option), and through the conventional 120V/8A Level 1 portable charging cable that plugs into a standard wall outlet (estimated charge time from very low battery to full charge – 22.5 hours; included on all Mitsubishi i models).
The Mitsubishi i is a compact car for sure but the design make for very roomy and comfortable accommodations for four adult-size passengers. Sadly, it is too small for us but for many a family this car would a great ride. The rear seats fold flat, allowing the cargo capacity to expands greatly, perfect for a couples weekend or for bulkier items at Costco or Lowes.
The cars will begin shipping in early 2012 to select markets, and will be available in the Northeast by April 2012 and nationwide by January 2013. You can reserve your i now though and Mitsubishi will cover the cost of the electrical inspection by Best Buy's Geek Squad to make sure your home can efficiently charge an EV: http://i.mitsubishicars.com/reserve. Very cool!
If you are reading this Mitsubishi I am totally willing to test drive this baby and review it extensively for as long as you desire! No seriously, I am willing to undertake that hardship for the sake of green research.
For more on the Mitsubishi i, visit Mitsubishi Cars and their Facebook page.
The Giveaway is CLOSED. The winner is comment #5 Good Girl Gone Green, Thanks for entering!
*Includes federal tax credit of up to $7500. Retail MSRP of ES starts $29,125 and SE starts at $31,125
Giveaway sponsored by Mitsubishi.