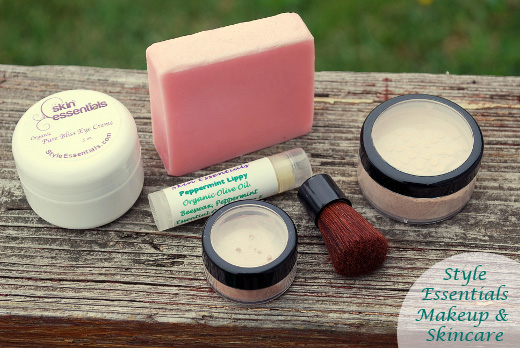 Over the years that I have written here on this blog I have rarely reviewed makeup or skincare items. I have turned down opportunities to review products along these lines somewhere in triple digit amounts. The reason for this is simple…I rarely if ever wore makeup, creams, lotions, or other skin enhancement products. I didn't want to devote the time to skincare products and makeup application and since the world of beauty ingredients is so confusing and potentially toxic it just seemed a better idea to opt out. If I could't or wouldn't USE the products it seemed hypocritical to review them.
My attitudes about makeup and skincare lotions and potions began to change recently though and I am sure it is no coincidence that I hit the big 3-5 this year. I am suddenly more concerned with aging and appearance and more apt to pick up some of these products and yet I am woefully uneducated on which ones are the safest and healthiest to buy. I am playing catch up big time.
For the past month or so I have been using some items from the Style Essentials line by Lisa D Liguori. She has spent many years doing extensive research in the field of healthy beauty care products and has been involved in the industry in some capacity for over 30 years. After being disappointed in the offerings in the industry, Lisa founded Style Essentials, an online boutique to offer a truly healthy alternative. I feel confident that what I have been using from her store is safe and healthy for my skin. They are also effective and luxurious. Even with my minimal makeup exposure in recent years I know enough to recognize high quality products.
Lisa was kind enough to send me some of her products to try free of charge but before she did that she asked a bunch of questions to ascertain what type of makeup and skincare would work best for me individually. Even with my vague and surely unhelpful answers she managed to send me items that knocked my socks off, each and every one of them.
Here is what I have been using:
Pure Bliss Eye Cream – This is a very rich and soothing cream meant to help with wrinkles, loss of elasticity, puffiness, hyper pigmentation and the reversal and prevention of free-radical damage. I LOVE how creamy it is and it feels so good to rub this around my eyes, which are the first place I have seen some signs of aging. I would not have picked up something like this on my own but now that I have tried it, I love it. I like to apply it before applying the makeup because I tend to have dark circles and this seems to help with that. I also put some on before bed. 79% organic ingredients.
Pink Mineral Complexion Bar – This is a cleansing bar and it is the creamiest and most luxurious bar I have ever used. Ever. It lathers immediately and feels like pure silk. My skin does not feel dry after using it at all, which was a concern. It just feels silky. Other members of the family (like my husband) keep trying to steal it away for their own use so I have to hide it. I am also a fan of the pink color! Made of French Clay, Glycerin, and Essential Oil of Camomile.
Peppermint Lippy – Speaking of super silky, creamy goodness…this lip balm is another winner in that regard. I have never used such a silky, creamy lip balm before. I absolutely adore it and now consider it to be my new fave. I like to wear it on its own and also on top of color from a lip liner/pencil (usually nude).
Matte Finish Powder – This is a mineral makeup finishing powder that is perfect for skin that leans towards oily. I first tried it without any sort of foundation and it looked very ghost-like and made my skin feel tight and dry. Not so flattering. Then I tried it as "finishing" powder (imagine that) over top of foundation and found I quite like it. It gives you a bit of air brushing and absorbs oil. The brush is also the perfect size for just a light smattering of the powder.
Champagne Ice Mineral Eye Shadow Powder – LOVE the color! I am all for nude and barely there color and this one meets that criteria. You can use it as eye shadow, brow highlighter, and as a shimmer for your cheeks. I am kind of anti-blush because I think I look clownish in it, so I really liked this product.
All of these products served as a great introduction to the line. I would also love to try some of their other offerings such as mineral foundation, eye pencils, mascara, lip pencils, and lip color which are the other things I would generally use on those special occasions that call for makeup. There have been many more of those moments this year with my resolution to have more fun, more frequent date nights, and a surge of business trips and events. I meant to pick up some more items before I leave for Detroit later this month but the time got away from me. I am for sure going to have to place an order before Blogher12. I love knowing that I don't have to sacrifice my health to look a little better and feel a little more confident in my own skin and no woman should have to make that trade IMO. Style Essentials is definitely one of the good ones. A++