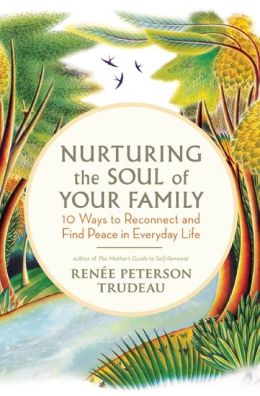 This past weekend I had the pleasure of curling up in bed with the sun streaming through my southern facing windows and a good book to read. I chose Nurturing the Soul of Your Family: 10 Ways to Reconnect and Find Peace in Everyday Life. The author, Renee Peterson Trudeau previously wrote a book about self-renewal for moms and that is something I care very deeply about. I feel as though we cannot reach our full potential in life…as moms, wives, friends, philanthropists, etc unless we nurture and take care of ourselves first. This book is also very much about that but it extends to the whole family and how we can create that atmosphere of self renewal and soul nurturing for everyone in the family. The idea is to view your family as a sacred tribe…a collective of people who are together to support one another's collective growth.
When you start to view the family dynamic in just such a way then you find that it changes the way you see things and people and it changes the way in which you react and relate to them. There are ten different ways in which we are called to awaken and change our thinking in the book. Some of them include:
Self Care – Taking care of yourself is needed before you can take care of someone else. This is why airplane disaster cards tell you to put your oxygen mask on first… you are no good to yourself, or anyone if you don't see to your own needs first.
Healing – Many people have issues they need to work out and a past that haunts them in some way. I loved reading the chapter on this because I would have thought I had no issues from childhood that need to be sussed out but this chapter got me to thinking that maybe I do.
Unplugging – Getting rid of the disconnect we may be experiencing due to technology running our lives.
Using Nature as an Antidepressant – I think it is very important to have a relationship with nature and to find strength and renewal in the outdoors.
Spiritual Renewal – I enjoyed reading about cultivating spirituality even if you aren't religious. Mixing and matching stuff from different faiths and cultures was even mentioned and I have long loved that idea.
Building Your Tribe – Making it your mission to find those around you (in your community, online)  that make you feel connected and loved. This is often something so lacking in modern life but we all need our tribe!
I think this book is a real gem and I can see myself reading it a couple times a year when I want to reconnect to my family and see them, and my life, through a different lens. We all get bogged down and forget the important things. It's nice to have a reminder.
For more info on the book click the link above or visit the author's web site. Happy reading!