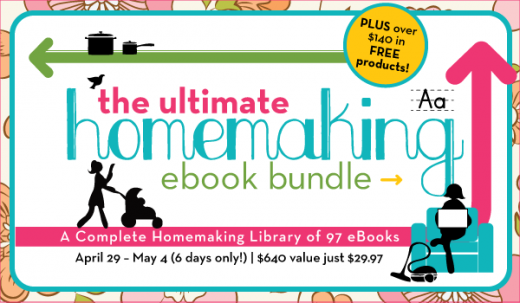 There are TONS of these ebook bundles being sold all over the blogosphere. I have been pretty selective about which ones I promote here otherwise I would literally be promoting something every other day it seems. I guess this is a good thing though because it means ebooks are being widely supported and it is such a green and minimalist format. I know I am hooked! You can read them on your computer, on your smart phone, and on tablets anywhere, anytime. For book junkies like me it is just too good to be true. :)
Anyway… this week I wanted to highlight The Ultimate Homemaking eBook Bundle. You get an incredible ebook library of homemaking books for a super low price. 97 books for just 29.97!! If you bought everything on it's own then you would be paying over $600 so it is an amazing value. I also love the topics…mothering, organization and cleaning, recipes and kitchen helps, home education, home décor and DIY, pregnancy and baby care, frugal living, health and fitness, and even work-from-home and financial tools. There are some topics that don't appeal to me, like the spiritual/religious stuff but for that price you can afford to disregard the ones not applicable to you.
To sweeten the pot, the sellers have also teamed up with 10 companies to bring you over $140 in bonus offers, giving you an affordable opportunity to get products you'll use and love for only the cost of shipping, or in some cases, entirely for free!
DEAL NOW CLOSED!