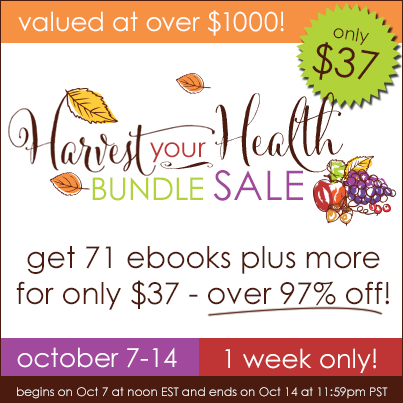 I have made no secret hat I am a die hard ebook lover. I love buying books on Amazon and I love buying them from various bloggers and authors direct. I am addicted to leaning I guess. It is what makes life worth living, the fact that we can keep growing, learning, and evolving. If I could I would be back in college racking up the degrees and taking classes for fun but since that is too spendy…this will have to do. I will learn from life life and from others who are out there living and learning.
The Harvest Your Health bundle particularly appealed to me and I wanted to share it with you. You get $1000 worth of ebooks and goodies for only $37. That should keep me busy through winter at least I reckon.
Click on the banner above or visit this link to see all the books you get but I if you want to know which ones excite me…read a little further.
The Grain Free Lunchbox – I struggle with on the go lunches that are grain free and paleo. You want easy and convenient but not the traditional lunch meat or PB&J sandwiches.
Paleogasm – Ha! Love the name.
Baking With Coconut Flour – Always looking for more coconut flour recipes. I adore the stuff.
Apartment Gardening – Have it and it has some great information and ideas.
Salves Made Simple – I would really like to start making more home beauty products and remedy products such as salves.
Enjoy!!