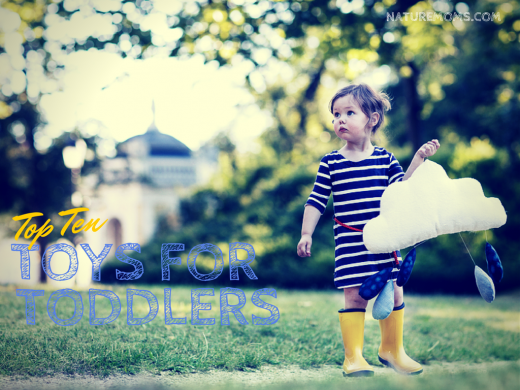 Natural and green parents no doubt want to find sustainable, natural, ethical, and planet friendly toys for their toddlers to play with. Does that have to be a tall order?? Where do you start? Do you want wood toys, cloth toys, solar powered toys, organic toys, or a combination thereof? Browse our top picks below for the best green toys for tots!
Plan Toys Nuts and Bolts is an instant classic in sustainable wooden "tool" toys.
Plan Toy Nuts and Bolts come with two large bolts and six threaded geometric pieces. Arrange the pieces in many formats and screw them onto the bolts to form different designs. Children love the repetitive twisting motion of threading the pieces on the bolts. It is great for developing fine motor skills. 2 years & up. Build dexterity and strength in little fingers by encouraging children to use their imagination to create forms and figures. Assemble the nuts and bolts with various mixes and matches.
---
International E-Racer Cars are an awesome wooden car choice, sleek and gorgeous! The E-Racer
couldn't be more sporty or stylish – its beautiful design will delight young and old as it races around the home track! The E-Racer will thrill eco-minded moms and kids with sleek design and nimble handling and the extra benefit of having a tiny environmental impact. The body of each E-Racer is built from one single piece of renewable bamboo and finished in non-toxic, water based paints from Europe. They come in multiple colors!
---
Plan Toys Hammer Balls
are a hit in our home! It has a lovely curved wooden box design with three colorful balls and a mallet. Toddlers love to hit things and play with tools and hammers so this gives them something constructive to do with that energy. It helps toddlers to improve hand-eye coordination, aligning, slotting and aiming It will be great fun to pound the balls and watch them roll out one by one. The concept is incredibly simple but the fun lasts for a long time! It is made of rubberwood and painted with non-toxic dyes
---
What toddler doesn't like blocks? The Kaleidoscopic Blocks from Haba take
an old and classic concept and adds an exciting and engaging twist! These beautiful wooden blocks have colored Kaleidoscope windows in the middle. Not only are they colorful and gorgeous they give your toddler a new view if the world. They can have stacking them, making buildings and castles, and creating with them. Haba is another company that makes excellent toys that last!
---
Mini Automoblox Cars and Trucks are a completely wonderful adaptation of the classic push car and truck. Boys everywhere just love their wheels and vroom vrooms right? They are sure to love these and innovative versions as well. The mini cars have a new universal connector system that enables the rapid interchange of parts, further accentuating the fun factor of creating different car styles. They are basically wooden vehicles but they have plastic parts that can be interchanged. They are a great compromise if you want cool and snazzy looking push cars but less environmental impact.
---
The toddler age is when kids typically learn to identify and sort shapes and
there are many mass produced toys to encourage this activity but most of them are plastic. This Rolling Sorter is perfect! Two toddler-pleasing toys in one! The littlest ones love to shake, rattle, and roll the shape sorter to make lots of noise, while older tots have endless fun fitting six bright blocks through the corresponding cutouts on both ends. The all-wood toy is made in Thailand.
---
Wooden blocks are awesome for creative play and stacking but they just seem
so … square! These Nesting Rainbows are a delightful toy for stacking play and they can learn their colors as well.  These vibrant wooden rainbows stack into colorful mountains or separate for wonderful arches, bridges and wee gnome or fairy houses – the possibilities for creative play are endless.
Handcrafted in Germany for ages 3+.
---
Tube Sorting Toy – Take shape sorting to the next level and
provide lots of educational and play value to toddlers with this well designed Tube Sorting Toy. Most of us had one of a tube sorting toy as a child but it was likely plastic and the tubes looked like doughnuts. This is a new look for a classic toy!This set is comprised of five colorful wooden tubes. Children are able to learn about size, color and scale. Made of natural, chemical free recycled rubberwood and finished with non-toxic water based dye.
---
This Pterodactyl Push Toy is cute as a button! What little dinosaur enthusiast wouldn't love to push this little guy around? When pushed, this winger dinosaur will flap his wings up and down utilizing offset wheels. Toddlers will improve their balance and directional skills as they play with this adorable dinosaur push toy. It is made of natural, chemical free recycled rubberwood and finished with non-toxic water based dye.
---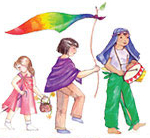 I adore Play Silks for kids. They are beautifully crafted, open ended play things. Children can use these versatile silks to create all sort sorts play scenarios with their imaginations. They can be capes, veils and head coverings, pirate flags, parachutes, clothing, flags, fairy wings, streamers… the possibilities are endless. They also come in many gorgeous colors.
---
123 Grow With Me – With not one, not two, but three or more different ways to use this innovative apparatus as your child grows, it's certain to bring years of enjoyment.
Babies ages 9 to 24 months use it as a walker (with wagon!) when they take their first steps; it also easily converts to a fun scoot-along ride so that toddlers 12 to 36 months can tote toys along with them; and kids 3 and up can employ it as a pretend-play shopping cart, doll buggy and toy trolley. It's sturdily made from solid wood with smooth-rolling plastic wheels.