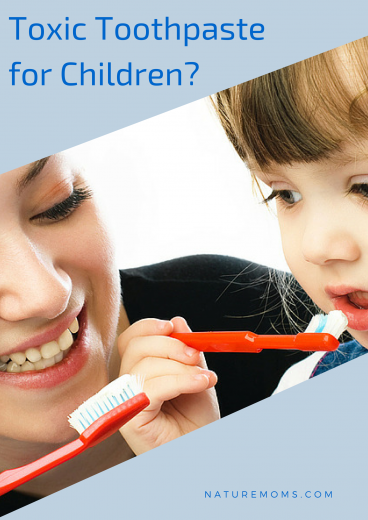 Toxic toothpaste????! No, I am not talking about tainted toothpaste from China. I am talking about pretty much all children's toothpaste you find at conventional grocery stores. It is nasty. You don't want to buy any of it.
I forgot to buy my usual kids toothpaste awhile back and I go through the stuff like water with one child who likes to squirt it on mirrors, toilets, light switches….you name it. This is a problem because they won't use my toothpaste…they say it is too hot for them and they won't use homemade either (too chunky). So when my kids and I were at Kroger I gave in to their request for some of that sugary, rainbow colored toothpaste that is for kids. I had a knot in my stomach but I said yes and when I got home to check the ingredients I could have slapped myself. I returned it.
The Makings of Toxic Toothpaste: 
D&C red dye #30 and FD&C blue #1 lake – There is nothing like crude oil in your kids toothpaste right? Well these dyes are derived from petroleum or coal tar. Over several decades of use, some of these synthetic dyes have come under greater scientific and government scrutiny due to their carcinogenic and mutagenic activity. Because of this, they are still referred to in the industry as coal tar dyes, according to the FDA. Remember red dye #2 or as it was called before it was banned, the dye of death? I guess red dye #30 is perfectly safe though right? NOT!
Some studies indicate that FD & C Blue Dyes 1 & 2 can trigger a wide number of behavioral, learning, and health problems. FD&C color dyes may also cause potentially severe allergic reactions, asthma attacks, headaches, nausea, lack of concentration, and cancer.
Sodium Lauryl Sulfate (SLS) – This is the ingredient that gives toothpaste (and TONS of other personal care products) their foaming ability. This same stuff is widely used to degrease cars too. Even more scary is that when companies have healing cremes or products they need to test on irritated skin, SLS is the irritant they choose to rub on the skin of humans and animals to see if they then "heal" it with their new product.
The journal of the American College of Toxicology reports that SLS can penetrate and be retained in the eye, brain, heart, and liver with potentially harmful long-term effects.
Flouride – This is not the beneficial additive that it is touted to be. In fact Dr. Mercola has stated that there is enough fluoride in a typical toothpaste tube to kill two small children if they consumed the whole tube at once. Since typical toothpaste for kids tastes like candy this is not hard to see happening either.
Also according to the Fluoride Action Network, no disease has ever been linked to a fluoride deficiency. Humans can have perfectly good teeth without fluoride.
Now we all tell our kids not to swallow the toothpaste but they contain very small molecules that may penetrate through the mucous membranes in the mouth, enter the blood stream, and build up in the liver, kidneys, heart, lungs, and tissues.
Carrageenan – This is used as a gelling, thickening agent. It actually comes from edible seaweed so it sounds like an awesome, natural ingredient at first. In actuality though it is highly processed in a lab, it loses it's beneficial properties, and even becomes harmful. Thanks to research conducted by Joanne K. Tobacman, M.D., at the University of Illinois College of Medicine it has been associated with stomach problems, intestinal ulcerations, and the promotion of cancer.
Some healthier toothpaste alternatives are listed below. With all these options you are sure to find something your kids will like and use, and that you won't feel bad about buying.
KidScents Slique Toothpaste – Available through Young Living. No fluoride, dyes, synthetic colors, artificial flavors, or preservatives. The base is coconut oil and baking soda.
Jack N' Jill Natural Toothpaste – organic calendula to soothe gums, organic natural blueberry flavor, fluoride free, sugar free, color free, SLS free, no preservatives.
Xlear Spry Kid's Tooth Gel – No fluoride, SLS, or glycerin for parents also trying to avoid that ingredient.
Weleda Toothpaste, Children's Tooth Gel – Does not contain fluoride, detergents, synthetic fragrances, colors, and preservatives. Ingredients include: glycerin, water, hydrated silica, calendula officinalis flower extract, algin, foeniculum vulgare (fennel) oil, mentha viridis (spearmint) oil, esculin.
Enamel Saver it is designed for kids and has no SLS.
Natural dentist kids sparkle berry blast – A great toothpaste.
Also check out: