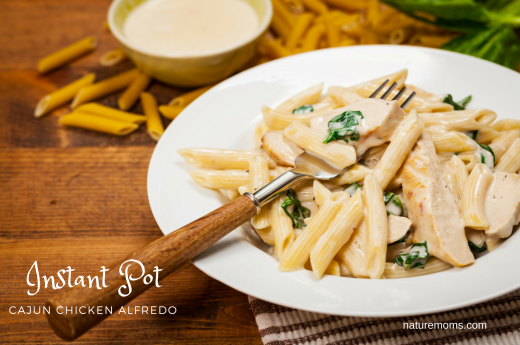 This is a super simple Instant Pot recipe that cooks fast and gets gobbled up even faster. It's buttery, creamy, and delicious. No alfredo sauce from a jar. Those products always have a weird processed cheese taste. Gross!
This Instant Pot pasta dish is one of those recipes I reserve when I have very little time on my hands. When I have to work late or there are late activities and errands to attend to, this meal is perfect to make because it is fast. I actually don't cook pasta in my Instant Pot very often, this recipe is one of the few exceptions. Enjoy!
Instant Pot Cajun Chicken Alfredo
Ingredients:
2-3 large skinless boneless chicken breasts
4 tsp cajun seasoning
4 tbsp butter
1 red bell pepper, chopped
1 green bell pepper, chopped
2 1/2 cups cream
1 tsp dried basil
1 tsp garlic powder
Pasta of choice (I use penne)
Parmigiano-Reggiano cheese to sprinkle on top
Salt and pepper to taste
How to Make it:
Oil the the Instant pot lightly and lay the chicken breasts on the bottom. Cover with the seasonings, bell peppers, and cream. Add the pasta and mix into the cream as best you can but some will be sitting on top. Cook on manual for 10 minutes and manually release the pressure. Remove the chicken and shred or chop it. Add it back to the pot and mix everything well. Serve with cheese sprinkled on top. Yum!