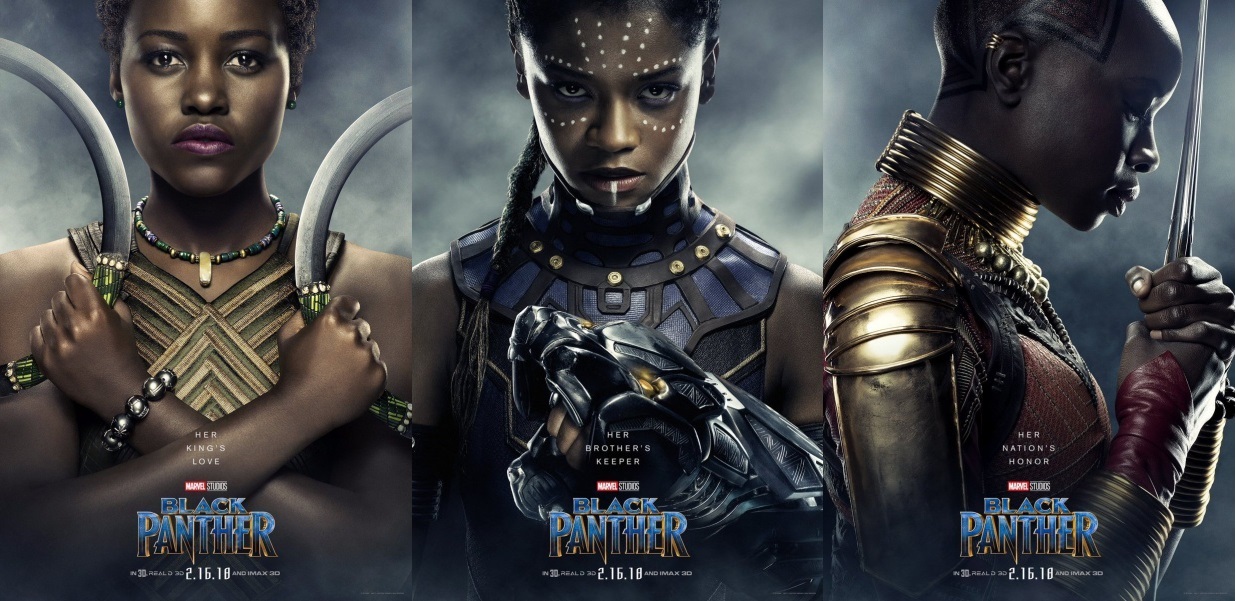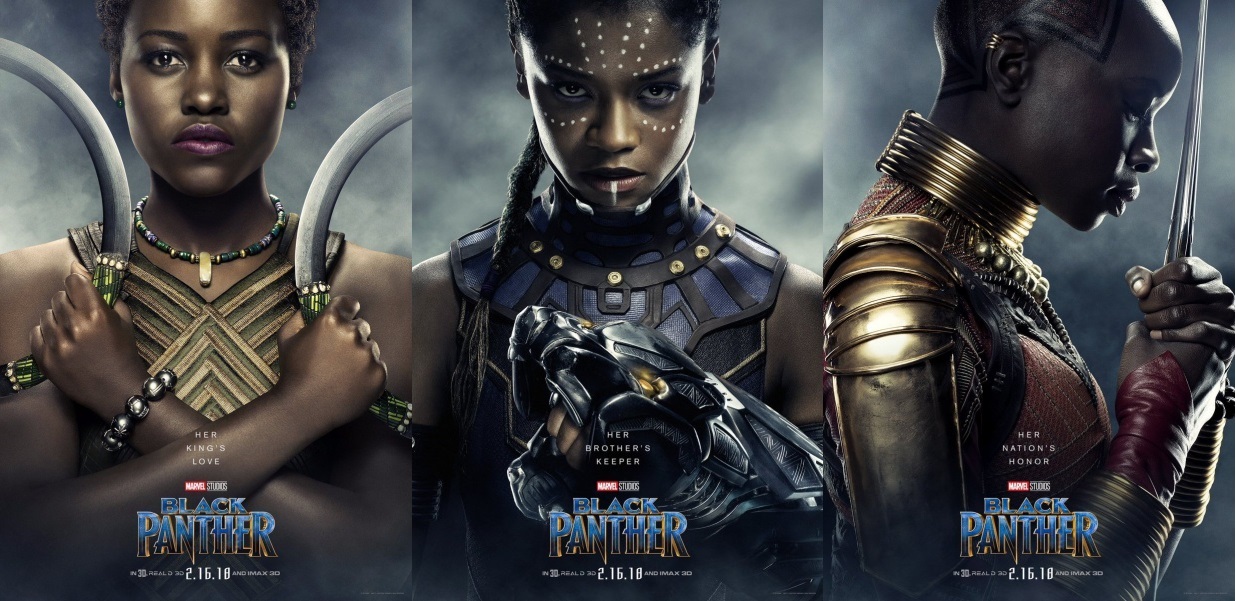 I went to see Black Panther last night and it was amazing for all sorts of reasons. It is the latest installment in the Marvel superhero franchise, which pretty much automatically means it will be amazing but I liked it even more than I thought I would. Why? Because it has some of the most empowered, accomplished, smart, witty, and exciting female characters I have ever seen in ANY film, superhero or otherwise. The Black Panther and ruler of Wakanda may be a man but the women of Wakanda are the best things about this movie.
Our first introduction to the title character, Black Panther, is in another of the Marvel movies…Captain America Civil War. That particular movie is my least favorite in the franchise…the whole infighting thing bothers me, and thus the intro of T'Challa, king of Wakanda, suffered to some degree. This is a shame because the character is rich, fascinating, and very likeable…which we discover in Black Panther. This movie really brought him to life and the fact that he is a ruler that has intentionally surrounded himself with strong, accomplished, kick ass women makes me love him all the more. I LOVE me some Thor but he may just have to move aside and make way for T'Challa.
Firstly I love that his role as the ruler of the fictional world of Wakanda and successor to his father is not a forgone conclusion because he is male. In the movie it mentions is sister Shuri is also an heir to the throne but her younger years and world experience make T'Challa a better choice perhaps. I say perhaps because his sister is wicked smart, as in she could take on Tony Stark and give him a beat down. She is responsible for much of the amazing technology, weaponry, and gadgets that we see in Wakada and on the king. She is the maker of his amazing vibranium suit. She could certainly don the Black Panther suit if she chose to but it seems her role as the brains behind the empire is what makes her happy, and she leaves the diplomacy and politics to her brother, who she adores. This character made me laugh out loud on many occasions and made me wish I could be her even more times than that. As far as role models go, you just cannot beat her.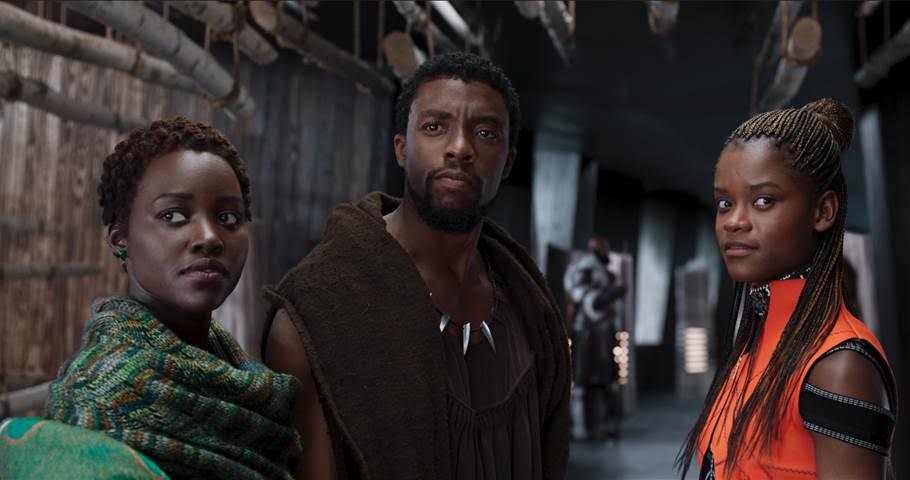 If Shuri is the brains behind the empire than Okoye is the brawn. She is a member of the Dora Milaje, a team of women who serve as special forces in Wakanda and the personal bodyguard of the king. Yes, the king has women protecting him. Okoye not only acts as his protector on diplomatic missions, she is his partner on the dangerous side missions inherent of a superhero. She is an an elite warrior and her fight scenes are truly something to behold. She is smart, strong, fierce, and loyal. She can be quite rigid in her dedication to her country and her people but unlike some of the more unreasonable male characters in the film, she will not blindly serve, as we see when a coup d'é·tat leaves her with some tough choices. She can see past her own ego and do the right thing when so many others cannot. That is the definition of true strength and leadership.
But that is not to say that men where made to look silly and foolish when tough decisions were to be made, quite the opposite is true….shout out to M'Baku. Men were not made to be weak or silly to then make the strong women in this movie into caricatures. Everyone holds their own, it's just that the women in Wakanda are allowed to shine.
Nakia is another amazing example. She is the love interest of the king but a rather unattainable one. She is not interested in being a queen to privileged people when there are so many others outside of Wakanda that are suffering. She is a warrior and a spy who gets involved in conflict for the good of others, using her abilities to help those in need. When we are introduced to her she is on a mission helping African women (and men) who have been abducted into slavery. She is also a War Dog, the central intelligence service of Wakanda, tasked with collecting information across the globe to ensure the safety of the kingdom.
So let's take a moment to let this sink in… in this cinematic world women are the warriors, the protectors, the scientists, the innovators, and the intelligence behind a powerful and technologically superior kingdom. Between the African setting, the hybrid of traditional and futuristic design and tech, and the many powerhouse female characters, Black Panther looks to be unlike any blockbuster in recent memory. Bravo! I highly recommend it to everyone but if you have daughters…take them. NOW!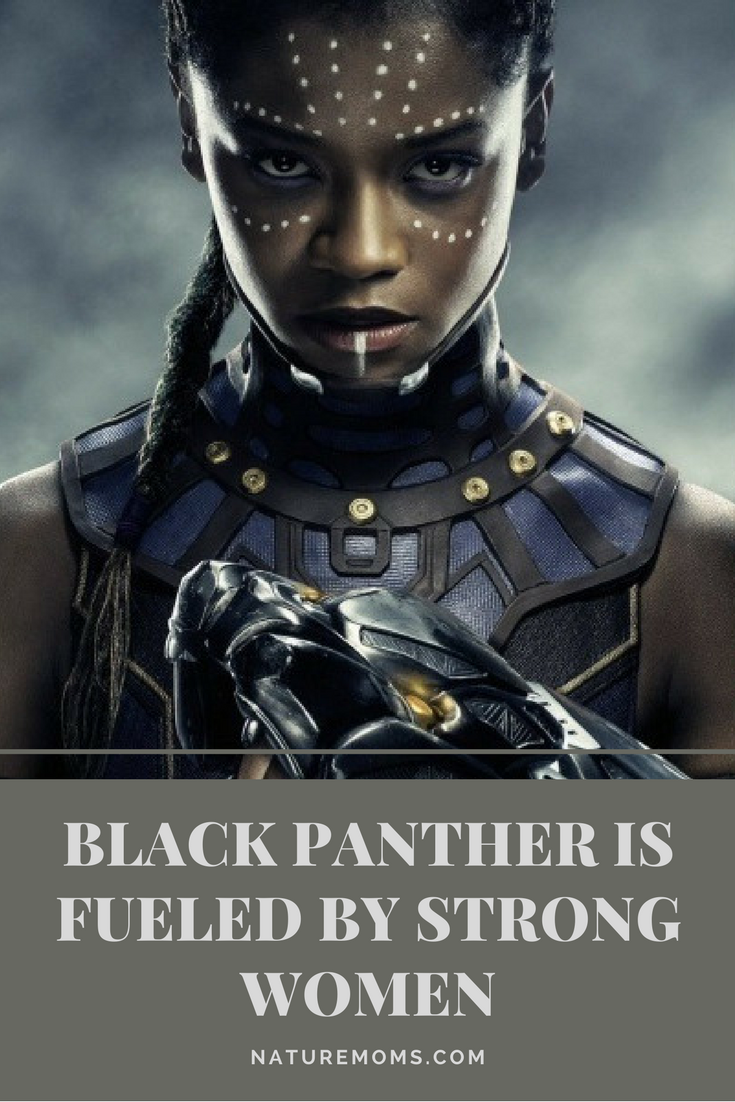 "Black Panther" stars Chadwick Boseman, Michael B. Jordan, Lupita Nyong'o, Danai Gurira, Martin Freeman, Daniel Kaluuya, Letitia Wright, Winston Duke, with Angela Bassett, with Forest Whitaker, and Andy Serkis.