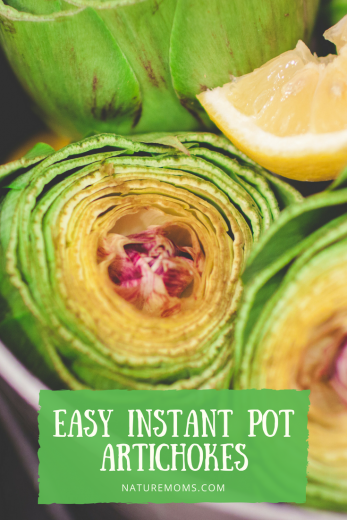 I absolutely adore artichokes. I used to grow them myself when I lived in the Southwest and I greatly miss being able to harvest these delicious globes myself. During the peak of the season I can rarely find them here in the Midwest for less than $2.50 an artichoke. They are worth the price of course but alas spending $12.50 just for an artichoke appetizer for the whole family is a rarity.
I do have to ring in the arrival of spring with artichokes though and this past month was no exception. I decided to try and cook them in my Instant Pot since oven cooking is already heating the house a bit too much. It will be Instant Pot everything for a few months at least! Luckily it was super easy and painless to use make them in the Instant Pot.
Making Instant Pot Artichokes
Start by trimming the artichokes as you usually would. You want to get rid of the tough, inedible parts by trimming the pointy tips off of each bract (leaf). Or you can just cut the top third section off and be done with it. I usually do both. You will need a good serrated knife and good kitchen shears. Artichokes are very tough customers.
Next you remove or trim the stem. Rub each artichoke with a bit of sliced lemon, some avocado oil, and then sprinkle with seasoning…ala salt, pepper, herbs de provence, etc. This part is optional. I have also cooked them with zero seasoning and they were quite tasty as is.
Place on the trivet inside the Instant Pot and add a cup of water. If the artichoke leaves are tightly packed you can sit them right side up. If they are more loosey goosey I recommend sitting them upside down on the trivet. Water will seep into big gaps. Set your Instant Pot on manual for 20 minutes. When time is up manually release the pressure valve and use tongs to plate them.
Artichoke Dipping Sauce
1/4 cup mayo – I like Sir Kensington's Avocado Oil Mayonnaise
1/2 clove garlic, finely chopped
1 tsp lemon juice
1 teaspoon Worcestershire sauce
1 1/2 teaspoons fresh basil, chopped
Now remove each leaf and dip in the amazing sauce. Once you uncover the heart and remove the artichoke hair (actually fibers, but they look like hair) dip that too. Amazingly delicious and fast too!
Another Instant Pot recipe to try: Instant Pot Potato Leek Soup