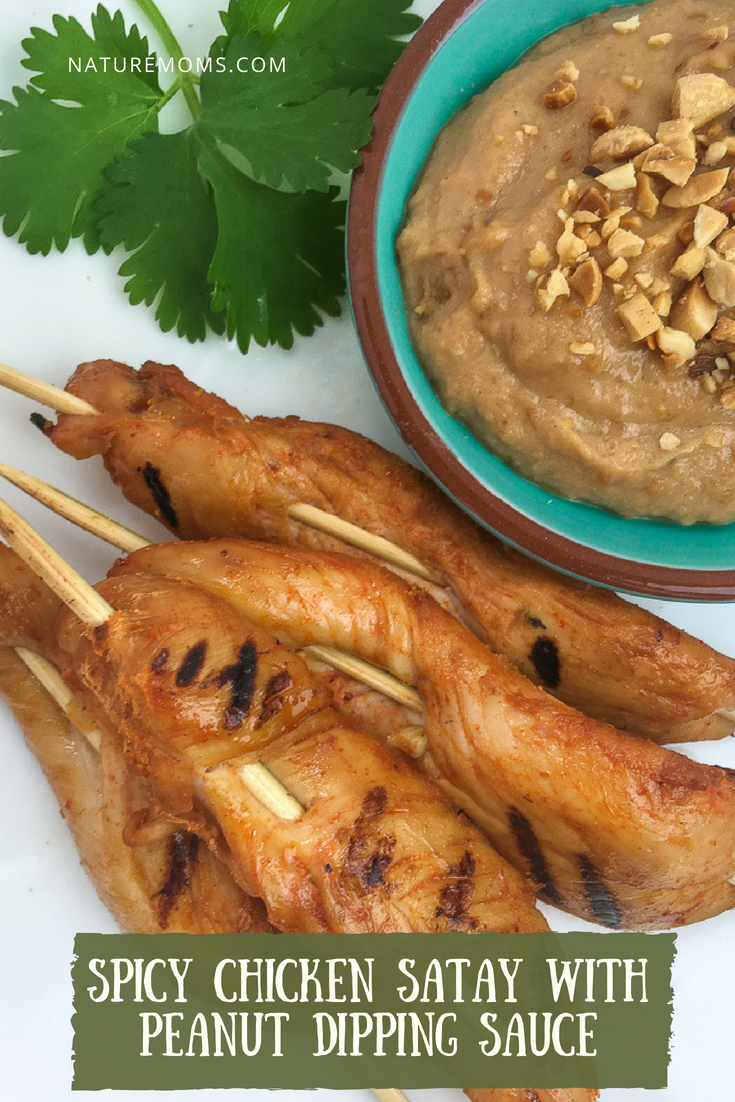 I love the combination of peanut and chicken. Kung Pow Chicken is one of my all times faves and so is this chicken satay. This spicy chicken recipe makes a great appetizer for a smaller gathering, because the kabobs make grabbing easy.  It also works as a very satisfying light entree when paired with some grilled summer veggies and a fresh green salad. This flavor-packed recipe can also be doubled or tripled for larger crowds.
Prep time: 10 minutes (+ marinating time)
Cook time: 15-20 minutes
Serves: 4-6 (2-3 skewers per person)
Additional equipment: 12 9(inch) wooden or metal skewers
Ingredients:

1 lb. boneless, skinless chicken breast, pounded to ½" thick and cut into 1" strips
3 T coconut aminos or soy sauce
2 T sesame oil
1½ T hot sauce
1 T pure maple syrup
2 T fresh lime juice
3 garlic cloves, minced
2 T fresh ginger, finely minced
Sea salt and black pepper, to taste
Peanut Dipping Sauce:
¾ C low-sodium chicken stock
1/3 C peanut butter
1 T coconut aminos or soy sauce
1 T pure maple syrup
¼ teaspoon cayenne pepper
2 T fresh lime juice
1 t garlic powder
¼ C fresh cilantro, chopped
¼ C roasted peanuts, roughly chopped
salt and pepper to taste
Directions:
Place wooden skewers, if using, in a bowl of water until ready to prepare chicken. Set aside.
In a large mixing bowl, combine coconut aminos, sesame oil, hot sauce, maple syrup, lime juice, garlic, and fresh ginger. Season with a salt and black pepper, as desired, and add the chicken strips. Cover and store in the refrigerator for at least 2 hours or overnight. Turn chicken at least once while marinating.
To prepare the peanut sauce, combine the chicken stock, peanut butter, soy sauce, maple syrup, cayenne pepper, lime juice, and garlic powder in a small saucepan over medium heat. Simmer gently, stirring frequently, until the sauce is smooth and slightly thickened, around 5-6 minutes. Remove from heat and transfer to a serving container. Top with fresh cilantro and roasted peanuts and set aside.
To prepare chicken, clean the grates on a gas grill with a stiff wire brush and spray with non-stick cooking spray. Close lid and preheat grill to medium. (To prepare indoors, spray a grill pan with non-stick cooking spray and set heat to just below medium-high).
Thread chicken strips onto prepared skewers and place over direct medium heat. Close the cover and cook, turning once, until nicely browned and cooked through, approximately 4-6 minutes per side. (If cooking indoors, increase cooking time to 5-7 minutes per side).
Remove from heat and serve immediately with the peanut dipping sauce on the side. Enjoy!