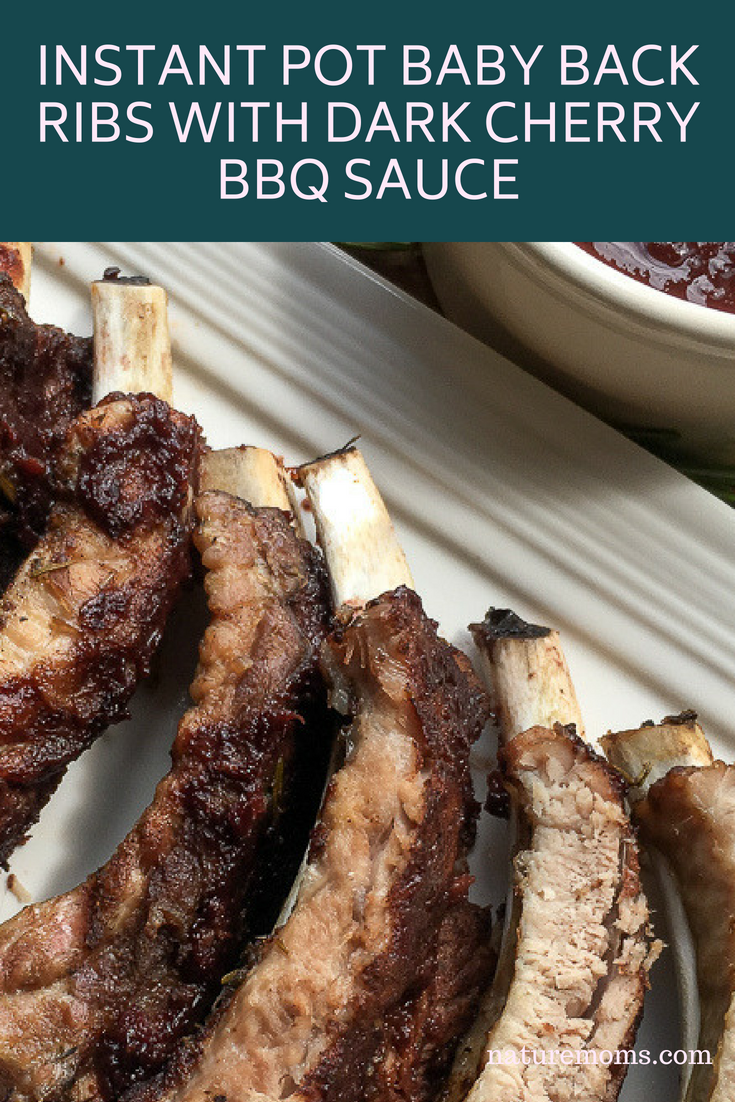 These fast and super easy Instant Pot baby back ribs are really flavorful, tender, and delicious. The cinnamon and rosemary in the dry rub complements the flavors in the savory Dark Cherry BBQ Sauce (below), but the flavors pair well with just about any barbeque sauce you prefer. For those watching carbs/ sugar I like this Paleo Cherry Barbecue Sauce and this low sugar, paleo friendly barbeque sauce.
Hot Tip: Place the ribs under a hot broiler after cooking in the Instant Pot for a mouth-watering, caramelized crust. Yes, it's another step but it really elevates the ribs.
Prep time: 10 minutes
Cook time: 30 minutes + time to come to pressure
Serves: 4
Dry Rub Ingredients:
1 tsp garlic powder
1 tsp chili powder
1 tsp dried rosemary
1 tsp ground cumin
½ tsp cinnamon
¼ tsp cayenne pepper
½ tsp smoked paprika
Salt and black pepper, to taste
Other Ingredients:
2½ – 3 lbs. baby back ribs
1 Cup beef stock (or water)
Dark Cherry BBQ Sauce (below) or BBQ sauce of choice
Directions:
Combine all ingredients for the dry rub in a small bowl and mix well.
Carefully remove membrane from back of baby back ribs with a sharp knife, if necessary. Cut the ribs into 3 or 4 equal-sized parts and work the dry rub into each section on both sides. Set aside.
Add beef broth or water to Instant Pot and insert the metal rack. Place the seasoned ribs on their sides on top of the insert. (Do not stack them flat on top of each other).
Lock the Instant Pot lid into place and seal the pressure valve closed. Hit the Manual setting to high for 30 minutes.
While cooking, line a large, rimmed baking sheet with aluminum foil and set aside if you are going to broil them in the oven afterwards.
Once cooking is complete, do a quick release (QR). Carefully transfer ribs to prepared baking sheet. Brush ribs with a generous amount of BBQ sauce on each side.
Pre-heat broiler to high and broil the ribs for 3-5 minutes or until nicely browned. Remove from oven and cool slightly before cutting into individual portions. Serve immediately with extra BBQ sauce for dipping.
Homemade Dark Cherry BBQ Sauce
This flavor-packed BBQ sauce combines the natural sweetness of cherries and maple syrup with the welcoming warmth of the ginger, cinnamon, and rosemary. The flavors meld well!
For best results, prepare this recipe one or two days in advance. Although it can be enjoyed immediately, this sauce really comes into its own when the flavors are given time to fully develop and intertwine. That just makes it easier for you as well, to have this part done ahead of time.
Prep time: 5 minutes
Cook time: 10 minutes + time to come to pressure
Serves 6-8
Ingredients:
2 Tbsp extra virgin olive oil or avocado oil
1 medium shallot, finely chopped
3-4 cloves fresh garlic, finely minced
2½ Cups fresh or frozen dark cherries, pitted
1 10-oz. can diced tomatoes with green chilies, with liquid
3 Tbsp apple cider vinegar
2 tsp fresh ginger, finely minced
1½ tsp ground cinnamon
½ tsp smoked paprika
3 Tbsp maple syrup
1 Tbsp fresh rosemary, finely chopped
2 tsp liquid smoke (optional)
Sea salt and black pepper, to taste
Directions:
Add oil to Instant Pot and select the "Sauté" function on the high temperature setting. Add shallot and garlic and sauté until soft and slightly golden, approximately 3-4 minutes.
Turn Instant Pot off and add remaining ingredients, including the liquid from the tomatoes and the liquid smoke, if using. Stir to combine and season with salt and black pepper, to taste.
Add lid and lock into place. Make sure the valve is set to the "Sealing" position and set the "Manual" setting to high for 10 minutes. After a brief pause, the Instant Pot will automatically start building pressure.