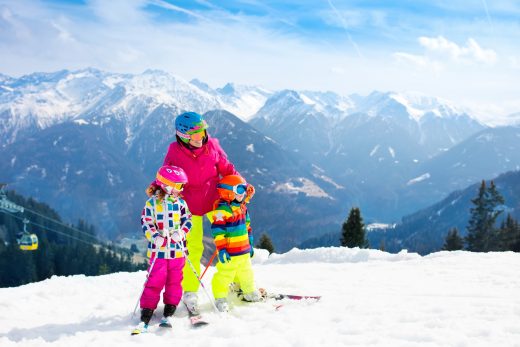 As a child, there's nothing more exciting than finding out that school is closed. For working parents, though, the thought of a school closing can strike panic in your heart. Not only do the kids not have school, but now you have to adjust your entire schedule to account for the weather. For working parents, there's not much fun in snow days. With winter in full swing, here's how you can survive the next school cancellation.
Snow Days: Expectation vs. Reality
Winter is notoriously unpredictable. Some years, it seems like there's a school cancellation every week. When you have to work, it can set you into a panic. Staying ahead of school cancellations isn't always possible, but, as long as you have a plan in place, a school closing can be easier to manage.
Start by having a discussing with your manager at work. If you're not the only parent in the office, than others will be equally affected by a school closing. If you are the lone parent, bad weather may still affect other employees during their morning commute. Develop a contingency plan for the days when weather closes school. Can you work from home? Take a vacation day? Job share? Keep the lines of communication open so that if there is an unexpected school closing, you'll have clear expectations for what to do. Weather can get in the way, but it doesn't have to completely stop you from being productive.
Keep an Eye on the Forecast
Since weather can change very quickly, it's important to pay attention to the forecast. If an impending storm is looming, work on your backup plan ahead of time. You may need to adjust your schedule or move around important meetings. If the weather is really bad and you cannot make it into the office, then it may be appropriate to work from home if your company allows it. Communicate your plans early and adjust them as needed to account for varying weather predictions.
Locate Backup Care


If your child is not old enough to stay home by themselves during a school closing, or their daycare also experiences a closure, it may be necessary to find some sort of backup care. This may be trading days off with your spouse or partner, so that one of you stays home with the kids, or bringing your young one to a trusted relative or friend. Ask around for emergency care resources that may be available if you are unable to adjust your work schedule.
If you do not have access to backup care, or you are a single parent, you may have fewer options. Not everyone has a flexible job, and a school delay or cancellation can throw your entire schedule into a tailspin. If your child is not old enough to be left home alone all day, bring them to work. Again, speak to your manager to ensure this is ok, and give your child things to keep them amused throughout the day, such as a tablet, art projects, or books.
Relax
Be as flexible as possible when dealing with inclement weather. Pittsburgh townhouses like yours will be abuzz with activity while the kids are home. Try not to stress if they have more screen time than normal, or eat more junk than usual. If you don't get as much work done as you normally would, don't beat yourself up. Try to enjoy the extra time with the kids and treat yourself to a few extra hours in your pajamas.