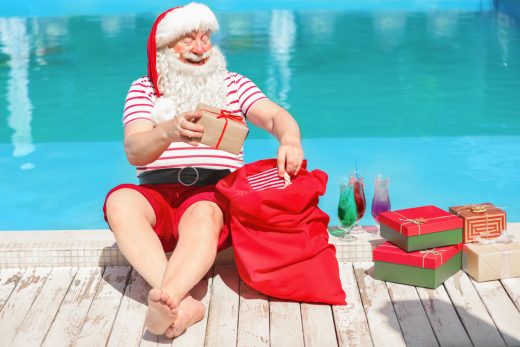 Thanks to the coronavirus, this year's festivities may look a bit different from years past. Instead of gathering around the table or Christmas tree, most families will be gathering around computer screens. While you may not be able to hug your loved ones, you can still enjoy your virtual time together and make the most of the holiday season. 
Below, you'll find a few ideas to make your Christmas Zoom meetup memorable and fun:
1. Send Virtual Invites
Just because you won't have friends and family over doesn't mean you can't send invites. After all, your loved ones will need the Zoom link to join your virtual gathering. While you can send the URL in an email blast, it's much more fun to send a colorful Christmas-themed invite. 
Use a template in Word or an e-vite website to create a colorful card online. Include the meeting link, password and any other relevant information. After sending them out, remember to check in on your older relatives to make sure they received one. They may need help navigating their inbox and locating the link, and it's easier to help them figure it out before the festivities begin. 
2. Exchange Food 
Food is an important element of any seasonal gathering. However, Christmas holds a special place in many people's hearts — and stomachs! Before you start lamenting the fact that you won't be able to taste Grandma's famous brownies, consider having a doorstep food exchange. Make your favorite holiday dish and deliver a portion of it to each person's front porch. Then, have everyone else do the same. 
If your family doesn't live nearby but you still want to share a meal, order takeout from the same restaurant or at least order the same type of food. Use DoorDash or a similar food delivery service that can drop your food on the front porch. 
Then, transfer your meal to a plate, toss the container and wash your hands to stop the spread of germs. Although the delivery may be contactless, it's best to play it safe. 
3. Play Games
After dinner, hop on Zoom and play a few games with your family members. Play board games that translate well to the virtual realm, like Yahtzee or Monopoly, and skip more complicated games like Scrabble and Ticket to Ride. 
You might also try a party game like charades or Pictionary or create your own fun with a family quiz. Rely on screen sharing to reveal questions and answers to everyone at once and use the Zoom chat to buzz in answers. When all else fails, keep things simple with an online game like Animal Crossing. Have the younger ones teach Grandpa how to play to encourage a little multi-generational bonding. 
4. Have a Watch Party 
If you'd rather sit back and relax after chowing down on mashed potatoes and pie, cuddle up on the couch for a movie or your favorite TV show. Make the activity a family event by hosting a Zoom watch party. Everyone can pop their own popcorn or make hot chocolate and press play at the same time, or you could use a third party app to sync streams.
For example, you can sync up your streams on Netflix by downloading the Netflix Party extension. Then, after you choose the movie, you can send a link to your loved ones so they can join the party. Amazon, Metastream, Scener, Hulu and Disney+ also offer watch party extensions so you can enjoy your favorite Christmas movies together, even if you're far apart. 
5. Make a Practice Call 
You may know how to work Zoom, but do your parents? Yes, the interface is simple and straightforward. But for someone who's never made a video call, URLs, passwords, waiting rooms and mute buttons may be intimidating. Therefore, it may be wise to have a practice run before your virtual Christmas gathering.
Walk your older or less tech-savvy family members through the process of getting on Zoom and joining a call. Use screen sharing to make troubleshooting easier and show them how to mute and unmute themselves. As long as they understand the basic features, Christmas day should be a breeze. 
However, if a loved one simply can't figure it out, have patience and consider just calling or Skyping them instead of Zooming during your Christmas festivities. 
Taking the Lead
The key to having the best Christmas Zoom meetup is finding someone to organize it. If you're tech-savvy and have a good working knowledge of the platform, maybe that person could be you. Offer tech support, admit others to the call, act as the moderator and, most importantly, man the mute button. 
Make your job a little easier by staggering arrivals and starting the call with everyone on mute. Use breakout rooms to arrange smaller gatherings and ensure everyone has the chance to chat. Before ending the call, be sure to take a group photo. This holiday is one for the books.