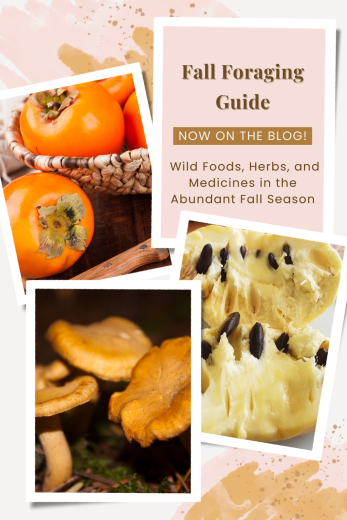 As the crisp autumn breeze ushers in a new season, nature's bounty undergoes a transformation. The fall season offers a treasure trove of wild foods, herbs, and medicines waiting to be foraged. Whether you're an experienced forager or a novice eager to connect with the natural world, here's a guide to what you can find and enjoy during this vibrant time of year.
Apples (Malus domestica): Fall is synonymous with apple picking season. Look for wild apple trees along trails, roadsides, or even in your backyard. These can be used for pies, jams, or simply enjoyed as a healthy snack.
Persimmons (Diospyros virginiana): American persimmons have a delicious, sweet flavor  with hints of vanilla, custard, and plum. Some people say that frosty weather just makes them sweeter…just like the fruit I highlight below…
PawPaw (Asimina triloba): Pawpaw trees produce large, edible, green fruits. The fruit is fragrant and has a distinctly bright, tropical flavor… ala banana custard. It is a small, native, understory tree. It grows in low bottom woods, wooded slopes, ravines, and along streams.
Elderberries (Sambucus canadensis): Elderberries are known for their immune-boosting properties. They ripen in the fall and can be used to make syrups, tinctures, or teas.
Chicken of the Woods (Laetiporus): These mushrooms have bright colors that look like a rooster comb. Mushroom hunters find them growing on trees or tree roots. They're very meaty and can be used as a chicken substitute in stir fry or pasta dishes.
Rose Hips (Rosa spp.): The rose hips, the fruit of wild roses, are high in vitamin C. Harvest them for making jams, teas, or infusing into syrups.
Spicebush Berries (Lindera benzoin): They are not sweet rather they are a bit citrus and peppery. You can dry the berries and then crush them to use as a seasoning for meat or soup. In fact it has been used as a substitute for Allspice.
Puffballs (Calvatia gigantea): They look like giant puffballs and can be as big as basketballs! They will have totally solid white flesh on the inside. If you see any hollow areas or darker colors, don't eat. Cook them up in omelets or use in pasta.
Dandelion Root (Taraxacum officinale): Dandelion roots are best harvested in the fall when they are rich in nutrients and less bitter. Roast and grind them to make a caffeine-free coffee substitute.
Black Walnut (Juglans nigra): these bright green, tennis ball look alike nuts "fall" from trees all autumn long. Collect them from the ground, husk them immediately, and allow them to dry in a cool dry place for a few weeks.
Chicory (Cichorium intybus): Chicory roots can be dug up in the fall and roasted for a coffee-like drink. The leaves are also edible and can be used in salads.
Burdock (Arctium lappa): Burdock roots are at their best in the fall. Dig them up, peel, and cook them to make a tasty, nutritious side dish.
Chantrelles (genus Cantharellus): After morels these are probably the most well known and sought after mushrooms. They are light yellow to orange in color, easy to spot, and chefs and foodies love their delicate mildly peppery flavor.
Goldenrod (Solidago spp.): Goldenrod flowers are abundant in the fall and can be used to make a soothing tea that helps with allergies and respiratory issues.
Witch Hazel (Hamamelis virginiana): The leaves and bark of witch hazel have medicinal properties and can be harvested in the fall for making tinctures or ointments.
Autumn Olive (Elaeagnus umbellata): Not an actual olive, nor does it taste like one. Use them to make jams that taste similar to cranberry sauce, ferment for wine (yum!) or make fruit leather.
Garlic Mustard (Alliaria petiolata): The leaves of garlic mustard are still tender in the fall and can be used to add a spicy kick to salads or pesto.
Wild Grapes (Vitis spp.): Wild grapevines produce small, flavorful grapes in the fall. Use them for making jams, jellies, or even wine.
Acorns (Quercus spp.): Acorns are abundant in the fall and can be processed into acorn flour for baking or used to make a nutritious coffee substitute.
Bee Balm (Monarda didyma): Bee balm leaves and flowers can be collected in the fall for making herbal teas that soothe digestive issues.
Hawthorn Berries (Crataegus monogyna): Similar to rosehips (same family) and can be used the same. They look like and taste like mini tart apples.
Wild Ginseng (Panax quinquefolius): The roots of American ginseng have long been used in herbal medicine and were originally harvested by Native Americans. There are laws in place to protect these plants and rules about where and when you can harvest ethically so please look into that in your region.
Remember, responsible foraging is essential to protect the environment and ensure the continued growth of these wild treasures. Always follow ethical foraging guidelines, obtain any necessary permits, and only harvest what you can use.
So, grab your baskets, don your hiking boots, and embark on a fall foraging adventure. Nature's pantry is overflowing with wild foods, herbs, and medicines waiting to be discovered and savored during this enchanting season.