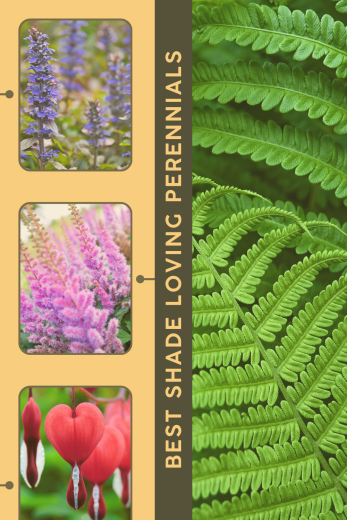 Shaded areas in your garden need not be dull and lifeless. With the right choice of perennials, you can transform these dim corners into vibrant and inviting spaces. In this blog post, we will explore the best perennials to grow in shaded landscape areas, including beloved favorites like Hellebore, Hosta, and Astilbe, as well as lesser-known gems like Solomon's Seal and Trillium.
Hellebore (Helleborus)
Hellebores, also known as Lenten Roses, are a must-have for shaded gardens. They produce elegant, drooping blooms in a range of colors, from white and pink to deep purples. These hardy perennials thrive in partial shade and add a touch of early spring beauty to your landscape.
Hosta
Hostas are renowned for their lush foliage, making them perfect for shaded areas. With a variety of leaf shapes, sizes, and colors, you can create a striking contrast in your garden. From the classic green varieties to variegated and blue-hued Hostas, there's one to suit every taste.
Astilbe
Astilbes are prized for their feathery, plume-like blooms that rise above their fern-like foliage. They come in shades of pink, red, white, and lavender, brightening up any shaded corner. These perennials thrive in moist, well-drained soil, making them an excellent choice for gardens with challenging growing conditions.
Coral Bells (Heuchera)
Coral Bells are known for their stunning foliage, available in various shades, from rich burgundy to lime green. They also produce delicate, bell-shaped flowers on tall stalks in late spring and early summer. These adaptable perennials can tolerate both partial shade and full sun.
Brunnera
Brunnera, often called "Siberian Bugloss," is prized for its heart-shaped leaves and tiny blue flowers that resemble those of Forget-Me-Nots. These perennials thrive in shade and will form a beautiful ground cover, adding texture and interest to your garden.
Ajuga
Ajuga, also known as Bugleweed, is an excellent choice for ground cover in shaded areas. Its low, spreading habit and vibrant foliage add a splash of color to even the darkest corners of your garden. In spring, it produces spikes of blue, purple, or white flowers.
Oakleaf Hydrangea (Hydrangea quercifolia)
Oakleaf Hydrangea is a stunning native plant that thrives in shaded locations. It boasts large, showy panicles of white flowers and striking oak-like leaves that turn vibrant shades of red and purple in the fall, adding year-round interest to your garden.
Ligularia
Ligularia, also known as the "Rocket," features bold, toothed leaves and tall spikes of yellow or orange daisy-like flowers. These perennials enjoy moist, shady conditions and provide a pop of color in late summer when many other shade plants have finished blooming.
Ferns
Ferns are the quintessential shade-loving plants. With their graceful, feathery fronds, they add a touch of elegance and a lush, tropical feel to your shaded garden. Varieties like the Japanese Painted Fern and Ostrich Fern are particularly striking choices.
Viola
Violas, with their cheerful, delicate flowers, are perfect for adding color to shaded areas. These perennials come in a variety of colors and bloom from early spring to fall, creating a continuous display of beauty.
Toad Lily (Tricyrtis)
Toad Lilies are unique perennials that thrive in the shade. They produce intricate, orchid-like flowers in shades of purple, white, or pink, often speckled with darker markings. These exotic-looking blooms add a touch of whimsy to your garden.
Bleeding Hearts (Dicentra)
Bleeding Hearts are beloved for their heart-shaped flowers that dangle gracefully from arching stems. These perennials thrive in shade and come in various species and cultivars, each with its own unique charm.
Pulmonaria
Pulmonaria, or Lungwort, is a shade-loving perennial known for its attractive silver-spotted leaves and clusters of tubular flowers that change color as they mature. They are excellent early bloomers, providing a splash of color in early spring.
Trillium
Trilliums are native woodland plants known for their distinctive, three-petaled blooms and elegant foliage. They thrive in moist, shaded areas, and their understated beauty adds a touch of the wild to your garden.
Lily of the Valley (Convallaria majalis)
Lily of the Valley is a classic perennial that thrives in shady spots. Its dainty, bell-shaped white flowers emit a sweet fragrance that perfumes the air in late spring. These perennials spread quickly, creating a charming ground cover.
Caladium
Caladiums are renowned for their striking, colorful foliage. These perennials are ideal for adding a tropical vibe to your shaded garden with their large, heart-shaped leaves in shades of red, pink, and green.
Solomon's Seal (Polygonatum)
Solomon's Seal is a graceful, arching perennial with distinctive, dangling white or greenish-yellow flowers. Its variegated leaves add an artistic touch to your shaded landscape.
Transforming shaded landscape areas into thriving gardens is a rewarding endeavor. By choosing the right perennials like Hellebore, Hosta, Astilbe, and others, you can create a stunning, low-maintenance oasis that bursts with color and texture throughout the seasons.
With these shade-loving perennials in your garden, you'll enjoy a beautiful and vibrant outdoor space, even in the shadiest of corners.