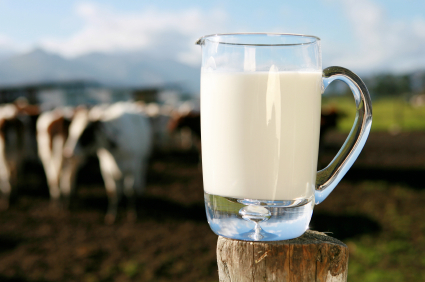 Ever heard of the raging debate about A1 and A2 milk? No? I hadn't either. But I am generally not a fan of milk so I thought perhaps I just wasn't being observant. Raw milk is about the only milk I will drink and I haven't even had that in a quite a while. A new book I read this weekend has me wondering if that shouldn't be a permanent thing. As it is now, we have reverted back to using some milk products… like cheese.
I picked up a book called Devil in the Milk and the introduction talked about how science in more "health conscious" countries is indicating that a tiny protein fragment called A1 beta-casein can cause a range of serious illnesses, including heart disease, type-1 diabetes, autism, and schizophrenia. Whoa…
The author, Keith Woodford, is a professor of farm management and agribusiness and he first heard of the A1 debate when a New Zealand company called the A2 corporation claimed they were selling milk that was healthier than "normal" milk. Of course the diary industry was quick to downplay this new milk and say that these claims were invalid. That was sadly all it took to convince Woodford that there was nothing to this A1/A2 thing. Then a friend of his joined the company and he handed Woodford several scientific papers and studies that had obviously been buried by the powers that be. This was the catalyst for his own research into the matter. Devil in the Milk was originally released in New Zealand but the US and Canada are all producing A1 milk with this potentially harmful protein fragment and he expects that within the next few decades this will become an issue here as well… as consumers start to demand A2 milk.
It all started with a private study into why Samoan children living in New Zealand were very susceptible to Type-1 diabetes whereas Samoan children living in Samoa had an extremely low incidence. Obviously they knew it had to be an environmental or dietary factor. Eventually they decided to see if milk might be the culprit… specifically a casein and they learned from a dairy farmer that there was a little something "unnatural" going on with beta-caseins in cow's milk. They learned of the beta-casein proteins A1 and A2 and how a mutation had occurred within the amino acid strings.  This mutation was passed on throughout the western world via large scale breeding and most of the cows used for milk in the western world have A1 cows. Could the diabetes issue be as simple as that? Soon after they did a study on mice. None of the mice fed the A2 beta-casein got diabetes. Of the mice fed the A1 beta-casein, 47% got diabetes. To make a long story short, other scientists got involved and studied the issue more and found links between consumption of A1 and other health problems.
There is lots of good info in this book about the nature of cow's milk and how
it relates to human consumption. Human milk has far less protein in it AND it has A2 beta-caseins. The A1 mutation is also said to be bad for people with a leaky gut… which I found interesting since many parents of autistic children find their kids have leaky guts… where elements of the food they ingest makes it way out of the intestine and into the blood stream.
It is a highly technical book but very interesting and the opening chapters really put it all in layman's terms to help the non-scientific understand the argument. I think it will be of interest to people who drink a lot of milk…. especially people who drink raw milk and follow a Nourishing Traditions type diet with all its lovely full fat milks, creams, butters, cheeses, ect. Not because it effects them more than anyone else in the Western world but because it is an issue they may not even know they should be concerned about. Consuming A1 beta-caseins may nullify some of their ideas on why that style of eating is healthier.
If you drink a lot of milk you probably want to give this a read. In a few years time it may be the new concern…. A1 versus A2 along with GMOs and rBST but perhaps more serious and with more obstacles to overcome in getting it out of our milk.
An alternative for us has been almond milk. My oldest son is now making it himself even.