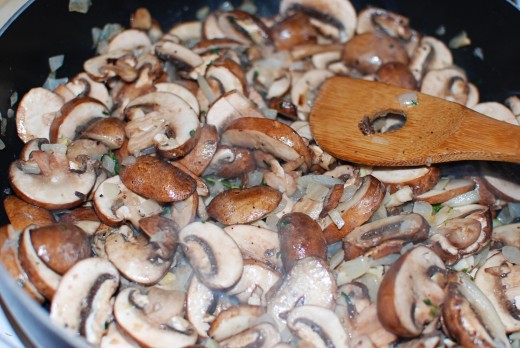 This is one of my absolute favorite soups in the world. I first had it served out of a cauldron at a Halloween Craft Fair and was convinced into recreating that heaven in a bowl at home. I came pretty darn close with this recipe. Of course my lovely husband insisted it is perfect as is and my ten year old son that if anyone declares this not to be the best soup they ever had… they are not right in the head. LOL.
This soup is vegetarian and it can be made without rice and it tastes just as delish, so it can be grain free as well. My reason for adding rice was quite simple… I added a lot of onion and my daughter freaks at the site of them and rice helps her to not be able to distinguish between the two. I imagine it is slightly more filling as well.
It is decadent dish for those cold winter days and nights (was only 15 degrees all day yesterday) and kids like it too. Although I admit that my kids LOVE mushrooms… many kids do not, I was one of them. Nowadays mushrooms and I get along like peas and carrots. As with MOST of my soups I also blend half of it to get just the right mixture of creamy and chunky. I swear I use my Vita-Mix for nearly every meal I cook in some capacity. I heart that thing so much! Anyway, here is the recipe. Enjoy!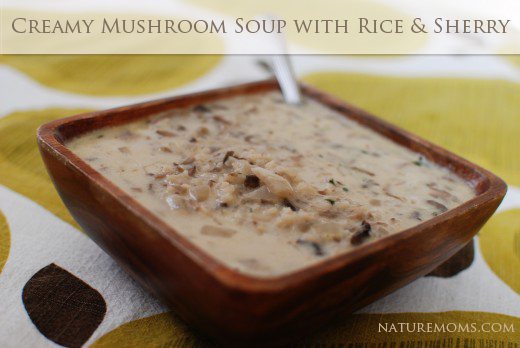 Creamy Mushroom Soup with Rice and Sherry
Ingredients:
1-1.5 lbs. mushrooms (cleaned and sliced). I used Cremini, Oyster, and Shitake
6 Cups Homemade or Low Sodium Vegetable Broth or Chicken Stock
2 Tbs. Grass Fed Butter
2 Tbs. Olive Oil
1 Large Yellow Onion
4 Cloves Garlic
2 Tb. Fresh Thyme Leaves (chopped)
1-2 Cups Cooked Rice (Brown or Long Grain Wild Rice)
3/4 Cup Cream or Half & Half
4 Tbs. Dry Sherry
2 Tbs. Tamari Sauce
Salt and Pepper
Instructions:
Cook your rice on the stovetop or in a rice cooker in advance.
Add butter and olive oil to your pan or stock pot and saute the onion and the garlic until sightly browned. Add your mushrooms, Thyme, and some salt and pepper and cook until the mushroom start to get limp, about 5 minutes. Add the broth and bring to quick boil, reduce heat and simmer until the mushrooms are nice and tender. Remove from heat and allow to cool for a quick spell and then spoon out half the soup into your blender, and blend for 2-3 seconds. Pour it back into the pot and add the cream, sherry, tamari, rice, and more salt and pepper as needed. Let it sit for a few minutes so that flavors can meld and then serve.