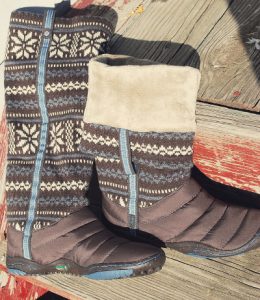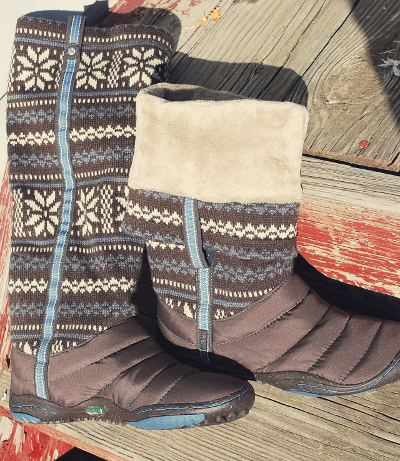 Fall is officially here and it is time for some lovin on the Fall collection of Jambu shoes, which have become a big favorite of mine over the years. They seem to have the right mix of fashion and style mixed with sustainability and outdoor adventure. For Fall I opted to try something I had never before seen.. Barefoot Boots! If you recall I have a love affair going strong with barefoot shoes. I wear my Vibram Five Fingers just about everywhere… the gym, the store, the zoo, hiking, traveling… I love them beyond all measure. Barefoot boots seemed like the perfect solution for minimal footwear in the winter AND despite the fact that I have been in Ohio for over 5 years, I still have never owned a pair of winter boots. What's up with that?!
Anyway I selected the Jambu Nottingham Barefoot boots. They come with grey/black, brown/blue, and red/black color scheme options. I chose the brown/blue. I love that they can be worn up past the calf as a high boot but yet rolled down to mid calf for a shorter boot. It is like getting two pairs of boots in one. The former would be perfect for tighter pants and the latter for bulkier pants and jeans. They actually are minimalist as well. It's very much like wearing pair of barefoot shoes, but slightly heavier and much warmer. The fit is very snug, which is going to take a bit of getting used to for me because usually, if I am not wearing five fingers (were all my toes can stretch out), I am wearing flip flops or other shoes chosen specially for their "roominess". Though I suspect that come winter and the temperature dips to 10 degrees, the snugness won't bother me as much. I can see some nice leisurely strolls at our local parks this winter, sporting these boots.
The upper part of the boot is a knit material (bonus for natural fibers) and the bottom part is nylon. You would expect that in a winter boot though. I am not sure what the inner liner is made of, but it is soft and comfy. The outsoles are made with partially recycled rubber, rice rubber to be exact. This allows flexibility and natural motion which emulates the one of a kind feeling that only walking on sand can give you. They are warm, comfy, and very minimalist. Other than being a bit too snug for my personal liking, they are a perfect minimalist shoes option for winter. In my estimation they run at least a half size small, so ordering up might fix that.
What are you wearing this winter?
************************************
Many thanks to Jambu for sending me a pair of shoes from their Fall line!