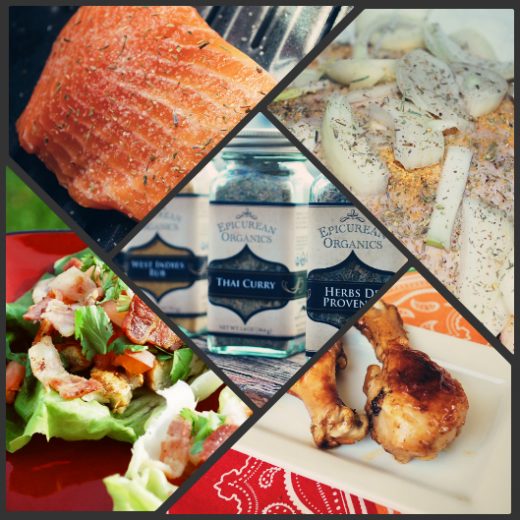 Attn: Giveaway at the end of this post!
A few weeks back Mountain Rose Herbs sent me a few of their Epicurean Organic Seasonings and the husband and I were excited to get cooking with them! I have been a fan of the store for a very long time and have bought their bulk herbs and essential oils in the past. They are one of my top sources for quality herbal ingredients for natural remedies. I never even thought about buying spices and cooking herbs there, not sure why exactly. Probably because I am not very adventurous with spices and herbs. I kinda stick to those I know and don't deviate. My husband on the other hand loves to use herbs and spices, the more exotic the better. I can totally admit that he is a much better cook than I.
We ended trying four of the Epicurian Organics – Thai Curry, Herbs De Provence, West Indies Rub, and Grilling Herbs.
Grilling Herbs – This blend packs a punch with its bold flavor and penetrating aroma which holds itself well against high heat and direct flame. It is perfect for grilling those steaks outside and that is what we used it for. Contains the following ingredients: organic garlic, organic rosemary, organic black pepper, organic thyme and organic herbs. It was nice to have these all in one bottle as opposed to many and we love to use our grill so these will go fast.
Herbs de Provence –This one ended up being my favorite! From the birthplace of Gastronomy and fine cooking comes this flavorful and floral blend used for most dishes which need a "high-lifting" flavor. Best reserved for pastas, fish and most seafood. Contains the following ingredients: organic thyme, organic rosemary, organic marjoram, organic lavender and organic herbs. I used it for salmon (yum!) and in homemade chicken soup (double yum!).
West Indies Rub – A tasty and alluring blend which has been popularized by traditional Caribbean and Jamaican dishes, and is best in stir fry entrees, on fish, and as a seasoning base for gumbo. Will also enhance the flavor of traditional Thai dishes. Contains the following ingredients: organic garlic, organic black pepper, sea salt, organic ginger, organic fenugreek, organic coriander, organic mustard seed and organic spices. I made baked chicken legs with this selection and also some tacos. They were quite tasty!
Thai Curry Blend – A traditional seasoning used for the entire spectrum of Thai, Indonesian, or Szechuan dishes. Any lover of Thai or Indonesian food will rejoice in the splendor that this deeply penetrating blend provides. Contains the following ingredients: organic garlic, organic onion, organic lemon peel, organic red pepper, organic black pepper, organic herbs and organic spices. My husband used this a few times for some Asian dishes that incorporated kelp noodles. He doesn't use a recipe as he just prefers to throw everything together and hope it works out well. Everything was delicious though.
In addition to coming from a very ethical and reputable company the spices are certified organic, Kosher certified, fairly traded, non GMO, irradition free, and chemical free. You could spend hours on their site reading up on their mission, ethical trading, their sustainability projects, and their commitment to a healthy world and planet. 2% of the proceeds from this line is donated to the Organic Consumers Association. These spices/herbs are also packaged in beautiful recycled glass bottles with post-consumer waste paper labels and original botanical watercolors. They are 100% organic and eco friendly goodness. It must also be said that they are VERY reasonably priced.
I hope my pictures above look mouth watering because one reader will get the exact same herbs/spices I did! You can see them below…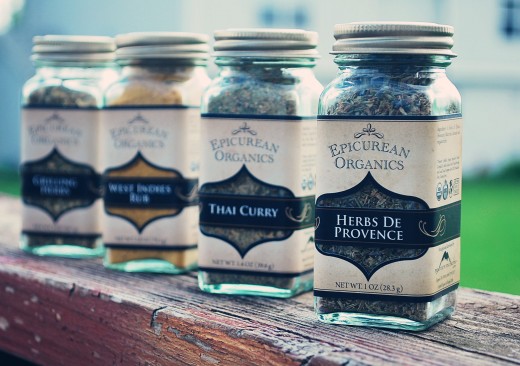 To enter just follow the prompts on the Rafflecopter form below, you have many options/chances to enter. The giveaway closes on May 16. Good luck and happy cooking!