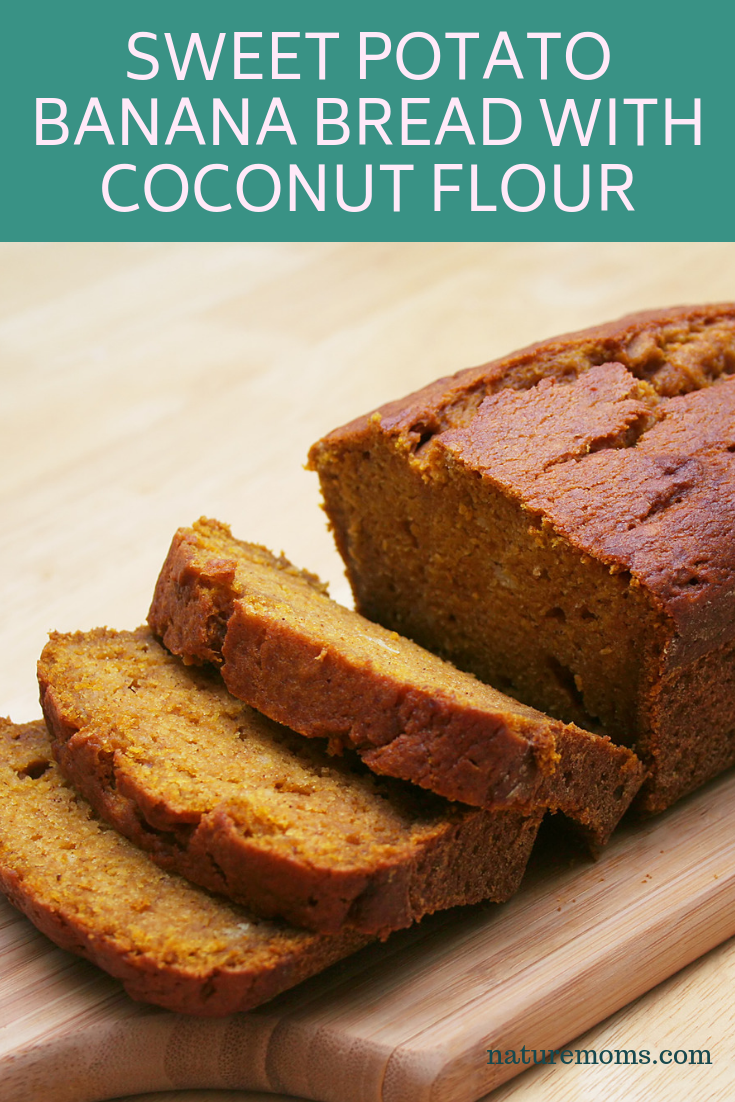 We have been eating sweet potatoes regularly of late and often times when I make up a batch of mashed sweet potatoes I have extra on hand to use in other recipes later in the week. Sometimes we reheat them on a griddle for breakfast or we make sweet potato pancakes with coconut flour and goat cheese. Yesterday though I decided to add some leftover mashed sweet potatoes to some grain free banana bread and see how it turned out. The results were quite delicious and the addition of sweet potato helped to cut down on the "graininess" from the coconut flour.
I think this is going to become a regular treat in our house from now on and perhaps even replace my pre-workout Larabars, since I am trying to reduce processed foods and needless packaging. The texture is very dense and soft and it has a bit of sweetness but not nearly as much as conventional banana bread. My kiddos all love it, with the exception of my youngest, who hates coconut. I feel good giving this to them for breakfast for some good brain food.
Sweet Potato Banana Bread With Coconut Flour
Ingredients:
1 Cup Flour
1/2 Cup mashed sweet potatoes
3 very ripe bananas
4 pastured eggs
6 T grassfed butter or coconut oil (melted)
2 T ground flax seeds
1/4 Cup chopped walnuts (optional)
3 T raw honey
2-3 tablespoons pure maple syrup
1/4 tsp sea salt
1T cinnamon
1/2 t baking soda
1 T vanilla
Instructions:
Preheat oven to 300 degrees. Mix wet and dry ingredients together in separate bowls. Add the dry ingredients slowly to the wet and mix together well. Pour into a well greased or parchment paper lined loaf pan. Cook for one hour and 20 minutes. Allow to cool and serve slathered with grassfed butter. Yum!