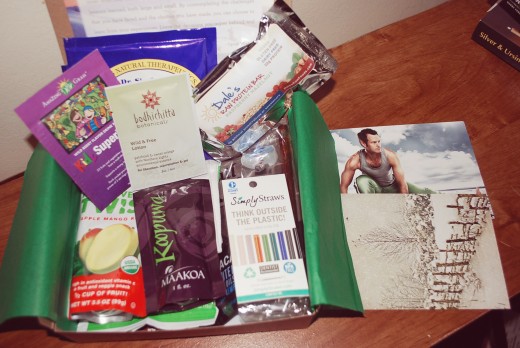 It has been awhile since I got and reviewed a Conscious Box. Too long actually. I forgot how much fun it is to get it in the mail and be surprised by all the goodies. Goodies that are generally good for our health and the planet of course. January's box had some especially good stuff too, perfect for starting the year out right.
Here is what I got:
Far and away my favorite offering was the bag of Hail Merry Choco Macaroons. Heavenly!!!! They are made with organic maple syrup, organic shredded coconut, fair trade dark cocoa, organic coconut oil, and pure Madagascar bourban vanilla. They are insanely delicious as well as paleo, gluten free, and vegan. No refined sugar. I highly recommend you try these…I know I will be a regular customer from here on out.
Nutiva Organic Hemp Seeds –  We like to put hemp seeds in smoothies, scrambled eggs, and sprinkle them on salads. You can also eat them right from the bag. They have lots of protein, omega 3s, and GLA (gamma linolenic acid).
Dale's Raw Protein Bar – This was quite yummy albeit a bit dry. The raspberry hazelnut flavor really came through. I am not likely to buy again because it has rice powder in it but other than that it is pretty darn good.
Peeled Snacks in the Berry Crunch flavor – These taste very much like other dried fruit snacks we have tried and they are organic. The kids liked them.
Koopuwa – I had no clue what this was until I looked it up online. It is a single serving of a Cupuacu, Acai, and superfruit beverage. It has a very tart taste and reminded me of wine.
Dr. Singha's Mustard Bath – Very interesting stuff! It is basically a foot/body soak with mustard seed powder, eucalyptus, rosemary, wintergreen, and thyme. It has been used in England for 40 years and is said to help people eliminate acid waste and balance their pH. I love finding new products/alternative remedies like this!
Kidz Superfood Powder from Amazing Grass – We have used this many times before and we love all Amazing Grass products. Check out my previous review and video here.
Simply Straws glass straw in an amber color – Yay!!! I use my glass straws daily but lately they seem to be getting broken by my kids. Aargh! Anyway this amber straw was a welcome addition to to the home.
Happy Squeeze fruit and veggie sauce in Apple Mango Kale – I tried just a little slurp and it was pretty tasty. My 7 year old devoured it. We will surely use the BOGO coupon that came in the box with it.
A People's Towel – This will be perfect as a napkin for lunch boxes/bags. I like it very much. ;)
Bodhichitta Wild & Free Lotion – Not really my thing but it smells wonderful.