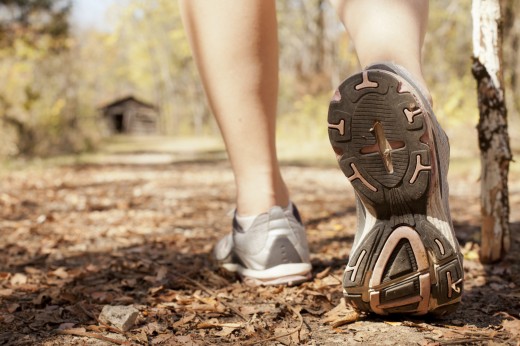 These days I am pretty much all about CrossFit but I have not forgotten my other "love". Hiking. I got an email reminder over the weekend that my city's annual Fall hiking series kicks off in late August and I am psyched. You basically take a guided or unguided hike through 10 of our 16 Metro parks. It is a great way to spend every Saturday for ten weeks…with your community, enjoying the changing of the leaves. I look forward to it each year. You get free refreshments after each hike and if you do enough of them you get prizes too. It is just another thing I love about Columbus, OH and just when that the Fall fun ends they start up their winter hiking series and you get to trek through snow.
I always make time for these annual hikes. Hey, it's exercise and if you have a sedentary job (like I do) then it is important to keep moving. Walking is good. Hiking is better. It is good for your body and heart because it is interval training with periods of heavier effort followed by plateaus and resting points along the way. It's good for you mentally too. There have been some studies over the years that have shown cognitive benefits of interaction with nature via hiking and walking. It can help you focus and ultimately be more productive. I do some of my best thinking on hikes.
As with most fitness gear I like to buy high quality. I may spend more initially but quality items last and I end up buying less and spending less in the long run. Sure I might spend $200 on a good pair of shoes but they still look brand new after two years when a pair from a big box store would have fallen apart after one season and they would have fit so badly I would have blisters. Go high quality the first go round and save your feet…unless of course you also need that pair of barefoot hiking shoes for low mileage hikes. Can't go wrong with a few different choices, or so says this shoe whore. ;) My hubby used to give me hard time about how much I would spend on athletic gear but now that he is equally involved in these pursuits he has quickly come around to my way of thinking.
We also both love to shop at The Clymb for this reason. They carry the bands and gear we love at hugely discounted prices, try these out. We have gotten shoes, compression clothing, and thermal fitness clothing for amazingly low prices. It's hard enough to stomach the fact that you NEED a pair of compression socks but paying $60 for those socks (a single pair) can leave you feeling faint. The Clymb though often has these socks for 50% off or more. Shoes go for equally amazing prices. The aforementioned pair of $260 shoes… knock those down to $130. My husband can attest to this. He and his workout buddies are always gabbing about some amazing deal one of them spotted on this site. I may have created a monster but a well-dressed one nonetheless.