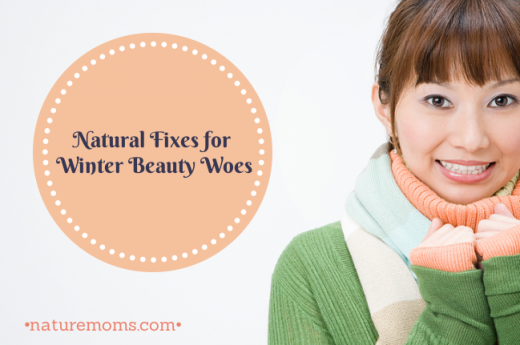 The harsh winter weather can really take a toll on our skin. In the midst of all the snow, storms, and polar vortex's of late your skin may be feeling kinda dry and drab right about now and your hair looks dull and frizzy…not so much nourished and healthy as we would like. It happens to all of us who live in cold weather climates so rest assured that many others are in the same boat right now. That doesn't mean there aren't ways in which you can remedy the winter beauty blah's though. Here are some natural remedies that will enable you to bring some "spring" to your winter skin.
Chapped and dry lips – Use a product that will be easily absorbed by your lips to help nourish and repair…as well as provide a barrier to wind and weather. Good products to try include those with beeswax (vitamin A stimulates cell repair) and coconut oil (skin cells drink it up).
No Glow – Winter skin can be pale and blah. Do not head to the tanning booth or start using toxic self tanners. Go for a bit of glow with mineral makeup.
Crow's feet and fine lines – A lack of hydration in winter skin can make find lines more pronounced. To combat this issue drink more fluids. Green smoothies are very hydrating and help to plump the skin up but you may not be crazy about drinking smoothies when the weather is cold. I suggest water with a couple teaspoons of aloe vera juice added, very hydrating.
Cracked or chapped hands – Our hands are quite often exposed to the harsh weather, even if we try to wear gloves or mittens as much as we can. In order to keep them hydrated we need to use something thick, creamy, and hydrating. Good options for hand creams would include coconut oil, shea butter, or jojoba oil. Keep some in your purse so that you can get to it frequently.
Dull dry skin on your face/body – Exfoliation is your best friends this time of year. Not only does the arid air present a problem but your natural oil production slows down in colder months. The old skins cells need to be sloughed off so that your complexion does not appear dull and dry. Put a cup or two of almond meal in a glass jar or container and keep it the shower.  Mix a tablespoon or so with a bit of water to make a paste and then exfoliate. It works great and is natural to boot.
I also recommend using a really soothing bar soap with french clay and natural oils and ingredients. This handcrafted soap is made with olive, coconut, palm, avocado, cocoa butter, french rose clay, Egyptian geranium essential oils, and crushed flowers.
Essential Oils for Winter Skin – Essential oils are amazing plant based oils that can help you look your best. Some of the best are Frankincense, Helichrysum, Lavender, Chamomile, and Patchouli. They are all well known for helping with skin care and skin issues.
Frizzy hair – Dry air, lots of wind, and friction with certain winter fibers creates frizzy, static hair. To combat frizz use apple cider vinegar to rinse your hair in the shower. Then rub a bit of coconut oil or olive oil on your hands and gently slide them over your damp hair, avoiding the roots. This locks in the moisture and helps with fly aways and frizz. For additional help try an avocado and olive oil hair mask, leaving it on your hair for 30 minutes or so. Also make sure ot check out my article on Essential Oils for Hair.
A few smart products and some items from your pantry can go a long way to help you beat any winter skin woes…