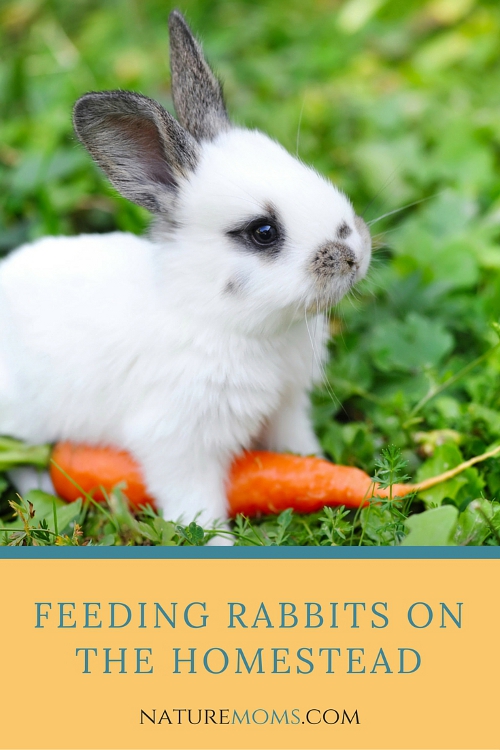 Like all pets, rabbits need a balanced diet in order to thrive. Because 20% of a rabbit's entire body weight is occupied by its digestive system, diet is especially important to a bunny's health. Many of the pellet foods that are provided in the US market contain everything that your rabbit will need nutrition-wise. They are also the simplest option – even though some of them are high in calories compared to what a rabbit would eat out in the wild. They can be kind of pricey though. If you are raising rabbits for their manure or for eating then you have to consider the return on your investment. Are you getting enough meat and/or manure to justify feed costs? If not, how can you reduce costs and still make sure they are eating a balanced, healthy diet?
Pellets lack essential water content, which is crucial to a rabbit's urinary tract health and so are disliked by some. Even so, if nutritious pellets are chosen, they can be very beneficial. Bunny owners should look for fresh pellets that are high in fiber, contain sufficient non-animal protein, and have very little calcium. The best option will probably be some sort of soy free, non GMO rabbit pellet.
Pellets should not be the primary component of any pet rabbit's diet. Because of their nutritional value and water content, vegetables should be offered in abundance. Most rabbits should receive between 2 and 4 cups of vegetables a day, depending on the bunny's weight. Veggie food scraps can be given to rabbits and you can also dedicate an area of your garden for homegrown bunny food. The classic carrot is a great vegetable to feed your homestead rabbits, but other healthy options include romaine lettuce, pumpkin leaves, broccoli, turnip greens, sweet peppers, and parsley. The best vegetables to feed a pet rabbit are those that are grown organically to avoid exposure to harmful pesticides – something that smaller animals such as rabbits are particularly susceptible to.
Although fruits should play only a limited role in a bunny's diet, high fiber fruits are good to offer in limited amounts. These fruits include peaches, nectarines, apples, strawberries, plums, tomatoes, and pineapple. No seeds or pits.
That brings us to hay and grass. All rabbits should be given some type of hay on a daily basis. In a rabbit's diet, hay is the key source of fiber, which helps to ensure proper functioning of the digestive system. Additionally, hay is great for bunnies to chew on and promotes healthy teeth. The most nutritious hay is timothy hay, although oat and alfalfa hays are also fantastic options. You can make your own hay from grass too. Let your grass get a little higher than you typically like, mow it, and spread the clippings out on a plastic tarp to dry in the sun. Once dry, feed it to your rabbits. Don't forget that they can eat weeds too. Clover and dandelion are bunny favorites.
During the summer months rabbits can do quite well on grown produce, grass, weeds, and supplemental hay. During the colder winter months you will not have the garden or the lawn to source from. In the winter you can grow other types of fodder indoors such as sprouted wheat grass. I buy non GMO wheat berries and I sprout them in sprouting trays. After only a week or so in the trays they can be sectioned apart and given to the rabbits. If you have enough trays and keep them going you can feed your rabbits this home grown fodder a couple times a week in addition to hay and pellets. In the photo below you can see one of my trays with wheatgrass on my kitchen counter…
With some good planning you can reduce reliance on pricey pellets while still making sure your buns have a healthy diet! Enjoy!