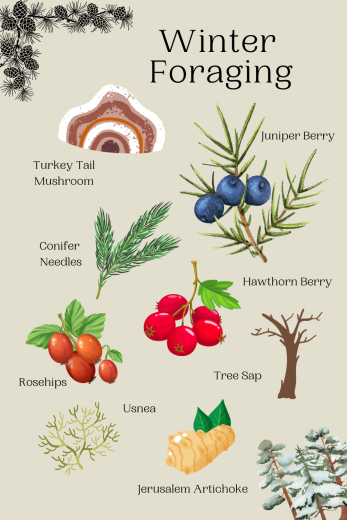 Winter may seem like a barren season for foraging, with the landscape covered in snow and many plants lying dormant. However, for those with a keen eye and a bit of knowledge, the winter landscape can yield a surprising variety of edible and medicinal treasures. In this guide, we'll explore some of the fascinating plants and fungi that you can forage during the winter months, along with tips on identifying and using them.
Winter Foraging Basics
Before we dive into the specifics of what to forage in winter, it's essential to understand some basic principles of winter foraging:
Dress warmly: Winter foraging means spending time outdoors in cold conditions. Dress in layers to stay warm and protect yourself from the elements.
Be cautious: Ensure you are confident in your identification skills before consuming any wild plants or fungi. Some can be toxic.
Respect nature: Harvest plants and fungi in a sustainable manner, taking only what you need and leaving no trace.
Edible Winter Plants
Rose Hips (Rosa spp.): Rose hips are the fruit of wild roses and are rich in vitamin C. They can be used to make tea, jams, and syrups.
Wintergreen (Gaultheria procumbens): Wintergreen leaves have a minty flavor and can be chewed fresh or used to make tea.
Pine Needles (Pinus spp.): Pine needles are high in vitamin C and can be steeped to make a fragrant and nutritious tea.
Spruce Tips (Picea spp.): The tender tips of spruce branches are edible and can be used in salads or to make a tasty syrup.
Burdock Root (Arctium spp.): While the leaves are not as appealing in winter, the roots of burdock plants can be dug up and cooked like a vegetable.
Medicinal Winter Plants
Echinacea (Echinacea purpurea): Echinacea root can be harvested in winter and used to make immune-boosting tinctures and teas.
Elderberry (Sambucus nigra): The bark and twigs of elderberry bushes contain compounds that can be used in herbal remedies.
Yarrow (Achillea millefolium): Yarrow leaves can be collected for making teas that help with cold and flu symptoms.
Ginger (Zingiber officinale): In milder winter climates, ginger may survive outdoors and can be harvested for its medicinal rhizomes.
Winter Foraging Fungi
Oyster Mushrooms (Pleurotus ostreatus): These hardy mushrooms can often be found growing on dead or dying trees during the winter.
Velvet Shank (Flammulina velutipes): Velvet shank mushrooms thrive in cold weather and can be found on tree stumps and logs.
Turkey Tail (Trametes versicolor): Known for its medicinal properties, turkey tail is a bracket fungus that can be found on logs.
Chaga (Inonotus obliquus): Chaga is a parasitic fungus that grows on birch trees and has a long history of use in herbal medicine.
Lion's Mane (Hericium erinaceus): This distinctive-looking fungus can be found on hardwood trees and is prized for its potential cognitive benefits.
Safety First
While foraging for edible and medicinal plants and fungi can be rewarding, it's essential to prioritize safety. Here are some safety tips to keep in mind:
Use reputable field guides or consult with experienced foragers to help with plant and fungi identification.
Always verify the legal regulations regarding foraging in your area, as some places may have restrictions.
Avoid foraging in areas where pollution or chemical treatments may have contaminated the plants and fungi.
Winter foraging is a fascinating way to connect with nature and discover the hidden treasures of the cold season. From vitamin-packed plants like rose hips and pine needles to medicinal wonders like echinacea and chaga, the winter landscape offers a diverse range of edible and healing options. However, responsible foraging and a solid knowledge of plant and fungi identification are crucial for a safe and enjoyable experience. So, bundle up, head outdoors, and explore the world of winter foraging with caution and respect for the environment.