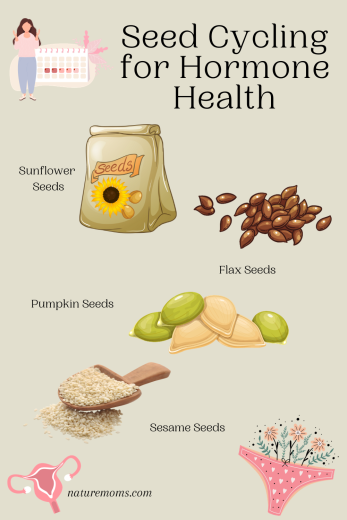 In today's fast-paced world, hormonal imbalances have become increasingly common among individuals of all ages. Factors such as stress, diet, environmental toxins, and lifestyle choices can disrupt our delicate hormonal equilibrium, leading to a host of health issues. Fortunately, there's a natural and holistic approach to address these concerns – seed cycling. This ancient practice has gained popularity in recent years as a means to balance hormones and promote overall well-being. In this blog post, we will delve into the concept of seed cycling, its potential benefits for hormone health, and how to incorporate it into your daily routine.
Understanding Hormonal Imbalances
Before we delve into seed cycling, let's first understand what hormonal imbalances are and why they matter. Hormones are chemical messengers in the body that regulate various physiological processes, including growth, metabolism, mood, and reproductive functions. When these hormones fall out of balance, it can lead to a wide range of symptoms, such as irregular menstrual cycles, mood swings, fatigue, weight gain, and more.
Hormonal imbalances can be caused by a multitude of factors, including:
Stress
Poor diet and nutrition
Environmental toxins
Lack of exercise
Sleep disturbances
Chronic illnesses
While conventional medicine often relies on medications to treat hormonal imbalances, many individuals are turning to natural remedies like seed cycling to address these issues at their root cause.
Seed Cycling Explained
Seed cycling is a holistic approach to balancing hormones by incorporating specific seeds into your daily diet at different phases of your menstrual cycle. This practice is grounded in the belief that certain seeds can help regulate estrogen and progesterone levels, the two primary female sex hormones. By consuming these seeds in a systematic manner, it is thought that you can harmonize hormonal fluctuations and alleviate associated symptoms.
The two phases of seed cycling are as follows:
Follicular Phase (Days 1-14): During the first half of your menstrual cycle, the focus is on flaxseeds and pumpkin seeds. These seeds are believed to support estrogen metabolism and promote its production.
Luteal Phase (Days 15-28): In the second half of your cycle, the emphasis shifts to sesame seeds and sunflower seeds. These seeds are thought to encourage progesterone production and its balance with estrogen.
The Benefits of Seed Cycling
While scientific research on seed cycling is limited, anecdotal evidence suggests that many individuals have experienced positive results. Some potential benefits of seed cycling for hormone health include:
Regulated menstrual cycles: Seed cycling may help regulate irregular periods and reduce symptoms like heavy bleeding and painful cramps.
Improved mood: Balancing hormones can have a positive impact on mood, reducing symptoms of irritability and mood swings.
Enhanced fertility: By promoting regular ovulation and hormonal balance, seed cycling may increase fertility in some individuals.
Hormone-related symptom relief: Seed cycling may help alleviate symptoms of PMS (premenstrual syndrome) and menopause, such as hot flashes, night sweats, and breast tenderness.
Better skin health: Hormonal imbalances can contribute to skin issues like acne. Balancing hormones through seed cycling may help improve skin health.
Increased energy: Hormone balance can lead to increased energy levels and reduced fatigue.
How to Incorporate Seed Cycling into Your Routine
Incorporating seed cycling into your daily routine is simple and can be done in various ways:
Purchase high-quality seeds: Ensure you're using fresh, organic seeds for the best results.
Measure your portions: Consume one to two tablespoons of each type of seed daily, depending on your preference.
Blend seeds into smoothies: You can easily add your chosen seeds to your daily smoothie for a convenient and delicious option.
Sprinkle seeds on salads or yogurt: Seeds can be sprinkled on top of salads, yogurt, or oatmeal for added texture and flavor.
Make seed butter: Blend your seeds into a paste to create seed butter, which can be spread on toast or used as a dip.
One of my fave ways to get more seeds is to make overnight protein oatmeal. I make two batches at once. Here is the recipe:
Overnight Oats with Protein and Seeds – Makes Two Bowls
Ingredients:
Protein Shake of Choice, halved (I use vanilla flavored)
1/2 Cup Oats for each
1 teaspoon of zero sugar cheesecake pudding mix for each
Seeds of choice for each
Use two small bowls and use divide the protein shake between them. Stir in the rest of the ingredients. Refrigerate until ready to eat.
Seed cycling is a natural and holistic approach to hormone health that offers potential benefits for individuals seeking to balance their hormones and alleviate associated symptoms. While scientific research on this practice is limited, many have reported positive results. If you're experiencing hormonal imbalances or related symptoms, seed cycling may be worth considering as a complementary approach to your overall wellness routine.
Remember that hormone health is influenced by various factors, including diet, stress management, exercise, and sleep. Seed cycling can be a valuable addition to your holistic approach to well-being, but it's essential to consult with a healthcare professional for personalized guidance and support.
By incorporating seed cycling into your daily routine and paying attention to your body's signals, you can take proactive steps toward achieving hormone balance and better overall health.