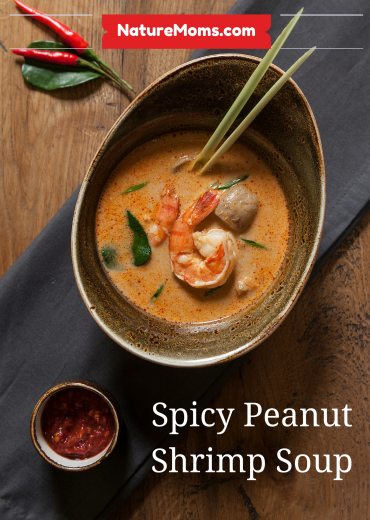 This is a new favorite of mine. I could eat it a couple times a week. It really warms you up on a cold day and it is so good for the immune system with its garlic and gingery goodness. The fish sauce and peanut butter combo gives it a savory-salty kick. As a soup fan and an Asian food fan…this dish totally satisfies. Try it, you won't be disappointed!
Spicy Peanut  Shrimp Soup
6 cups chicken broth
3 cloves garlic, minced
2 small sweet red peppers, sliced
2 small red chilis, sliced
1 Tbsp fresh ginger, chopped
2 Tbsp fish sauce
1/4 cup creamy peanut butter (look for no sugar added)
1 lb shrimp, cleaned – tails off
3 cups frozen or fresh baby spinach
5 green onions (whites and greens)
In a saucepan simmer the broth, garlic, chilis, peppers, ginger, fish sauce, and white onion for a good ten minutes to allow the flavors to fuse. Whisk in the peanut butter. Add the shrimp and cook until opaque if raw. Add frozen baby spinach and green onion and stir for a minute or so. If using fresh spinach you can put a handful or two in the serving bowls and ladle the soup on top.
If you want to avoid spice just remove the chilis. Easy peasy.
Enjoy!
Thursday, December 11th, 2014