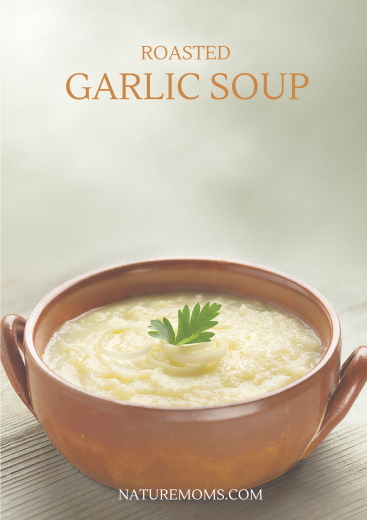 I love cooking with garlic. Lots of garlic. Luckily this yummy soup does indeed have lots of garlic…two whole heads actually. What is that…20-30 cloves? You just can't have too much.
I like to make this recipe when it is cold because it is very warming. It is also great to eat during cold and flu season because garlic helps boost the immune system. It is also very affordable for eating well on a budget. Potatoes and garlic don't cost all that much so I splurge and buy really good parmesan cheese to go with it. Enjoy!
Roasted Garlic Soup Recipe
Ingredients:
8 Ounces yukon gold potatoes, chopped (3/4 of a one pound bag)
2 Tablespoons olive oil
2 Heads of garlic
6 Cups chicken or veggie broth
1/4 Cup parmesan cheese (plus more for sprinkling)
Salt and pepper
Instructions:
Preheat oven to 375 degrees. Pull loose skin off of garlic heads and cut the tops off so that the cloves are exposed. Cover each in one tablespoon olive oil and wrap in foil. Roast or 45 minutes in an oven safe baking dish. Allow the garlic to cool and then squeeze the cloves out of the skin.
Bring the potatoes, garlic, and broth to a boil. Cover and simmer until potatoes are soft. Pour all ingredients into a blender, including the 1/4 cup cheese, salt and pepper. Blend well and pour into bowls. Garnish with more cheese (optional). Pairs well with a nice crusty bread.
Enjoy!
Thursday, December 4th, 2014