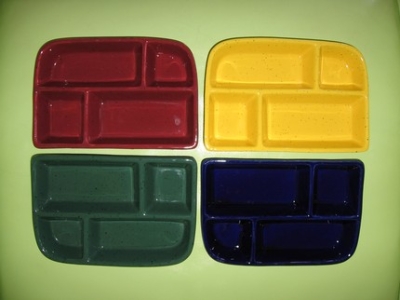 A reader recently emailed me and asked if I knew where she could find glass plates that were sectioned or divided kind of like a bento or a tv dinner tray. She was having trouble finding anything like that and when she did they were no longer in stock. Well, that email sent me on a hunt to track down an option for this mom and along the way I fell in love with this concept.
As you most likely know I love bentos so it is not a stretch to see why I would also love idea of a tray or plate with dividers….like they use in schools. There are plates like this for babies but I never really saw any for older kids and the baby ones are plastic. I know my own kids love to use old baby plates we used with my youngest. They love the little compartments for each food but we stopped using them because they were old and most likely contain BPA. Or they were Melamine which we also won't use. Well thank you Angela for giving me this idea, the picture above shows some vintage ceramic TV trays I scored for my own kids. Of course the thing about vintage is that you need to check etsy, eBay, Craigslist, or local antique stores to find them but you never know! These particular plates (above) can be put in the microwave or oven but I don't intend to do either.
Non vintage options are around as well. First up is the BIA Cordon Bleu 12-Inch TV Dinner Trays Set. These are very retro looking trays (love that) and are made of durable white porcelain and stoneware. They have room for the main dish, a dessert, and two sides. Very fun! 
There is also the plain BIA White TV Tray but they only one left on Amazon and 2 on the source web site at Retro Planet. This may just be a low sale item so they order more if they have a definite buyer. A call to the seller never hurts.

Here is a stonewear divided plate that is pretty cute but pretty darn pricey as well.
Another option is stainless steel and Amazon has one for younger kids in their Reed & Barton Sea Tails Baby's Divided Stainless Whale Plate. Very cute but kind of small for my kids I think.
I also found other examples of stainless steel "mess trays" as they called and this military surplus store sells them. I also spotted a set of 4 on eBay.
Other ideas might be to check Craigslist or local Army surplus stores. I used to visit the Army surplus stores a lot  as a teen…I had a thing for the fatigues, the boots, the canvas duffles, etc. I remember seeing steel plates in there. Old camping gear might have something like this too.
Some company needs to step up and make a new line of glass, ceramic and/or steel TV dinner trays and divided plates!