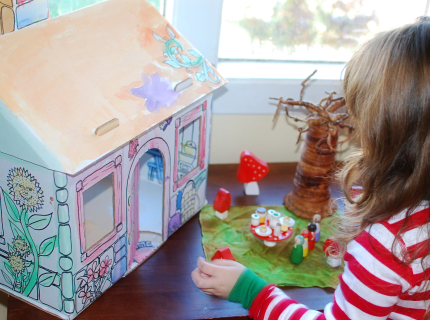 I have posted about cardboard toys a couple times before.. I just love em! In addition to being fun they are essentially an eco friendly arts and crafts project as well as a toy. We recently got to review some of the cardboard play houses from the Imagination Box Company and while they aren't as original as say the cardboard tree house or the castle we got this year… I am liking these better.
For one thing they keep it simple! The instructions on some of these cardboard toys can be very hard to decipher but these were assembled very easily. They are also throwbacks to more simple times. The cottage has a lovely ethereal, old fashioned feel to it with the cobble stone, wood framed door ways and windows, climbing vines, etc. It is exactly the kind of house a fairy (or me) would choose, so it made the perfect house for my daughter's wooden fairy dolls.
Other cardboard toys we got came with markers and these toys came with watercolors paints. I love that. It made the decoration phase just a bit easier for the kids, cause who can stand to color with markers for 4-5 hours BEFORE you start playing with your new toy? My daughter spent about 2 hours painting her cottage and it was dry enough to play with immediately. Whereas my daughter colored only what was "in the lines", she let her older brother do a little freehand flower on the roof of her house. If it were HIS house that blank space would be utilized in full.
We also got a one room schoolhouse which is another clever throwback. I often take my kids to historic schoolhouses for fun so I like this one a lot. But it has some modern touches that eco parents will love, solar panels and a recycling center.
As the company name suggests these are little units of imagination in a box. You get the basic framework and the kids (along with a parent) put it together, and then they can get to work decorating and designing. Then it can take them wherever their imagination wants to go. It has no doorbell that rings, it has no mechanical doors… the kids have to do the mental work and that makes these a couple of excellent toys in my opinion. Plus when they get trashed or tossed aside they can be recycled.