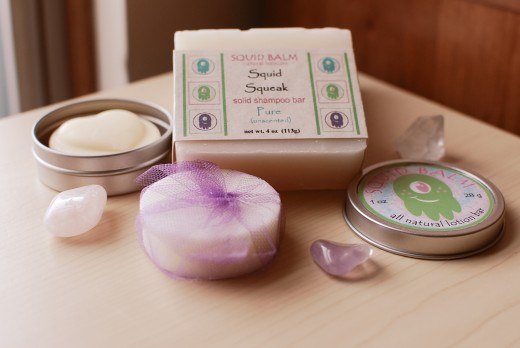 I recently got to test out some Squid Balm products that were graciously sent to me. Most times I refuse any sort of product in the beauty and/or skincare realm. I get dozens of requests each week and I always have to politely explain that I can't test them if I won't use them. ;) Soap and shampoo bars are just my thing though. I was also very interested in trying a lotion bar since I have heard good things about them. Plus my skin has been drier since I started spending so much time in the pool. I wanted to try a moisturizer.
Anyway, I have been washing my hair 2-3 times a week using the shampoo bar. It foams up nice and it does the job well. After washing I have also been using the Squid Silk Solid Conditioner Bar in Wild Blueberry. I LOVE it!
Anyone who uses shampoo bars knows that they leave your hair drier and less shiny than chemical laden shampoos. This conditioner helps to remedy that. You rub it between wet hands and then rub it on the surface of your hair or your skin if you want. The smell is divine as well. Shampoo and conditioner using natural ingredients and they come in bar form. What else could I ask for?
The lotion bar has a really heavenly, albeit not overpowering scent called coconut peach. I am not a fan of scents in general but both scented products I got were a-okay for my delicate olfactory system. Anyway when you rub the lotion bar on initially it feels kind of sticky and that bothers me a bit. After 2-3 minutes or so the stickiness is gone and it feels nice and refreshing. The small tin it comes in is nice for throwing in your purse or gym bag too. Few people could carry around a bottle of lotion but this little tin would be no issue at all and it will last quite awhile.
In addition to being vegan, Squid Balm products are also nut-free, paraben-free, preservative-free, and phthalate-free. Handcrafted by moms as well.
In the end I would happily keep ordering all these products but especially the shampoo bar and conditioner bar because those are two things I cannot find locally.  The only real criticism I have is that their web site was a bit hard to navigate with all the product descriptions sort of running together and the order buttons being nowhere near the photos of the item. Plus I didn't see any "coconut peach" scented shampoo bars. ;)
Squid Balm get a big thumbs up from me.