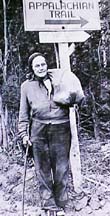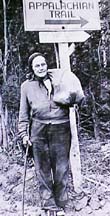 I don't usually post about all the various pitches and requests I get (via this blog) that are seeking donations to further a cause or a charity. If the cause sounds good I might tweet about it or post on Facebook but I get so many of these requests and I don't want to inundate everyone with them. But this week one caught and held my attention. It wasn't about clean water for third world children or feeding the homeless but it is still something that pulled on my heartstrings and made me open my own wallet. I guess maybe that is because the email sent to me had the secret words in it… Appalachian Trail.
I am thinking that perhaps the email was sent to me specifically because I am an Ohio blogger and Emma Gatewood was from Ohio. I don't know if the sender had any insight into my love affair with the Appalachian Trail or not, either way they had me hook, line, and sinker with any mention of the AT. It has been my dream since my late twenties to thru hike the AT, which is a 2,181 mile long trail that extends from Georgia to Maine. It takes about 6+ months to hike it start to finish and I want to do it so very badly. Every year I dream of the day when my family and I can pack up and hit the mountains together for that once in a lifetime experience. And sometimes I acknowledge that it may have to wait until my kids are grown but either way I don't think I will ever consider my life complete until I have done it. It's at the top of my bucket list.
Anyway, Emma Gatewood was the first woman to ever thru hike the trail solo. That is an amazing and courageous accomplishment. I would never consider hiking it alone (to chicken) and I admire any lady that has the stones to do that. BUT there are several other wow factors to share as well. She made this hike in 1955 at the age of 67 and after raising 11 children!! She also ended up becoming a pioneer for ultralight backpacking because she made this trek with only a pair of Keds sneakers, an army blanket, a raincoat, and a plastic shower curtain which she carried in a homemade bag slung over one shoulder. If you are familiar with what long distance hikers are toting around nowadays you will understand how amazing this woman was. But that is not all. She ended up hiking the AT two more times after that initial foray, she hiked The Oregon Trail (2000 miles), and she helped start The Buckeye Trail (1,444 miles) in Ohio.
Eden Valley Enterprises is a not-for-profit corporation that specializes in living history programs and storytelling through theater, usually about historical figures that accomplished amazing things. They recently premiered a storytelling program about Emma to a sold-out house at a community center in Ohio and that spurred them to try and bring Emma's story to life as a film documentary. It will be produced by Peter Huston of FilmAffects and WGTE (PBS Toledo) has agreed to be a broadcast sponsor and production partner for it.
If this sounds like a worthwhile cause to you, donate via Kickstarter or directly via PayPal or check to Eden Valley.
*************************************************
Never heard of the Appalachian Trail? Let me suggest some  of my fave books!
A Walk in the Woods: Rediscovering America on the Appalachian Trail
Becoming Odyssa: Adventures on the Appalachian Trail
Walking Home: A Woman's Pilgrimage on the Appalachian Trail
Hiking Through: Finding Peace and Freedom on the Appalachian Trail
Photo Credit: The Appalachian Trail Conservancy