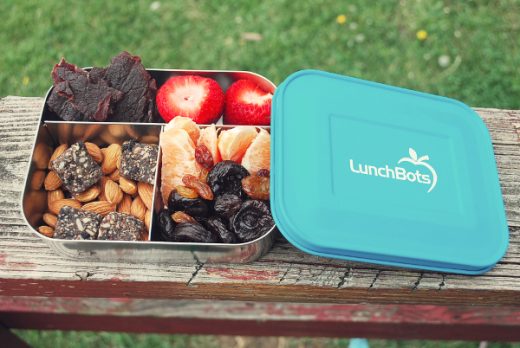 I have been a LunchBots fan for quite awhile. I have the LunchBots Duo and have used it for years now. I use it to store kiddie snacks on the road, I use it for school lunches, and I use it for my own snacks and lunch on occasion. It was this particular lunchbox that I took with me to a seminar I attended recently in fact. So color me overjoyed to try one of their new lunchboxes. I have eyed the Trio and the Quad with much desire.
The folks at LunchBots kindly sent me the Trio and I have used it steadily this week for post workout snacking. I either take it with me so I can run errands directly after or I sit at my computer desk with it and snack while I work. Whereas some of the other LunchBot options make sense for lunches this box seems to be better for snacks or sides to accompany the main event. Since they are all the same size you can easily stack them and wrap them up in a reusable bag for lunch if just one won't cut it for you.
I like that they are simple in design, plastic free, and easy to clean and care for. The bento style lunchbox is also what we prefer to use here. The compartments keep the food from touching! My original LunchBot still looks like brand new and I have no doubts this one will stay nice too. I also love the brighter colors they have now. This shade of blue/teal is my favorite!
If you want to try one out LunchBots is offering an exclusive code for my readers this week only. Use code NATURE for 10% off and free shipping. Enjoy!