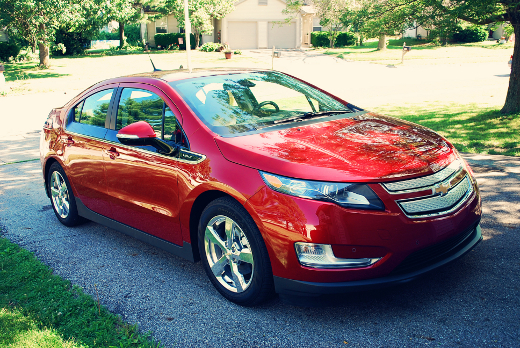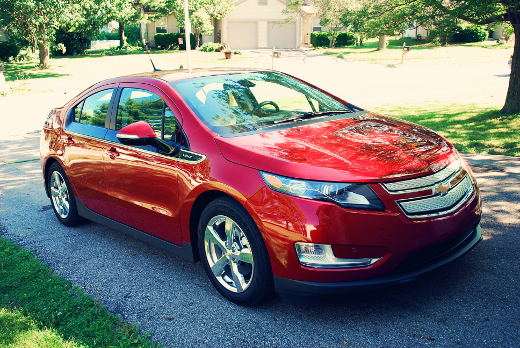 Last week I had the pleasure of cruising around in a Chevy Volt. It was a pretty new experience for me since I am used to driving regular cars with greater than average fuel economy, all electric cars, or hybrids. I had yet to try a plugin hybrid and was excited to test drive the Volt because I thought that is what it was…a plugin hybrid. I was pleasantly surprised though to find it is not. The Volt is actually an electric car that also happens to run on gas if you need it to. Pretty nifty actually and a really, really nice car.
When I drove an all electric car last year I was greatly impressed. I fell in love truth be told. The biggest drawback for me though was that it would have to be a second car. In general I don't do a lot of driving and an all electric would mostly fit our needs but there are those trips to grandma's house a couple times a month or those days when we have shopping/errands and drive more than usual. The 75ish miles MPGe that I had on the last electric car I drove might not be quite enough for us. Most days it would be fine but some days it would be impractical and you have to take that into consideration. That said though I loved that driving an electric car made me more conscious of how much I drove…making me drive smarter and less.
The Volt is a perfect solution for this conundrum though.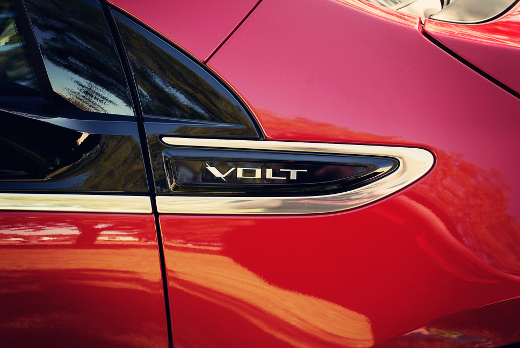 When I have a test car in my possession I tend to drive more than usual so I can actually test it. So just about every day that I had it I exceeded the battery mileage and used some gas but in general this car would be pretty perfect for our needs. On a full charge the battery would get me about 42 miles each day. Most days (for me at least – not my husband) that would me more than sufficient for my needs and I would never need to use any gas. If my husband were to drive it he might have to fill up with gas once every two weeks. With a full charge and a full gas tank the mileage is about 380 miles. Yep, pretty sweet.
I ended up driving about 420 miles in total during the week I had the Volt and had a 1/3 of a tank of gas left over at the end. In the photo below you see I was getting 94.6 mpg. Also in this picture you can see that at the time it was taken I was driving on electric power and had 2 miles left. There was enough gas in the tank to get me 169 more miles after that. It's all there for you see quite easily when driving. This same screen even tells you when you plug the car in, how long you need to leave it for a full charge.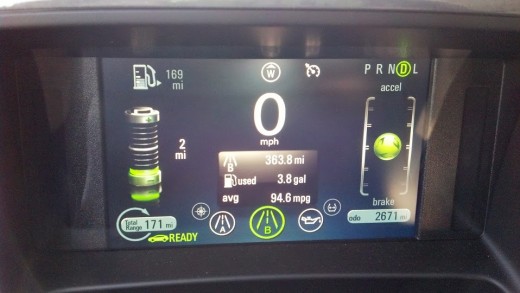 After your battery mileage is spent it automatically kicks over to the gas tank. The transition is so smooth you don't even noticed it happened unless you are looking at the console screen behind the wheel. My biggest complaint with hybrids is that they are jerky and you physically feel the transition from battery to gas and back again. I didn't enjoy that aspect at all and with the Volt there is none of that. It is kind of amazing actually. Also worthy of note is the fact that while the car starts in electric mode (if there is a charge) you can also choose to use gas only if you want.
Other features that I loved include the push button start (no key required). I actually prefer this because I can just leave my keys in my purse 24/7. As long as the keys are in the car, it will start just by pushing a button. You can also start it remotely, which is so important to have in the winter time in Ohio. Connectivity features include Chevrolet MyLink™ with 7-inch diagonal color touch-screen that lets you easily navigate through an amazing array of information and entertainment options, Bluetooth® wireless technology for select phones, OnStar® with RemoteLink mobile app and SiriusXM Satellite Radio. I fell in love with the 80s music channel on XM!!
The charger for the car is located in a panel in the trunk, which is also a nice feature of the car. It is big and roomy and accessible to the back passengers. My son adored being able to climb into the trunk from the back of the car, LOL. It's those little things I guess.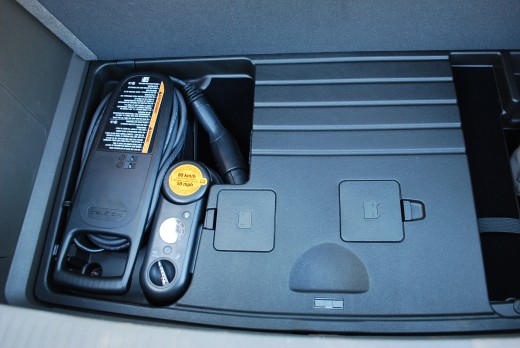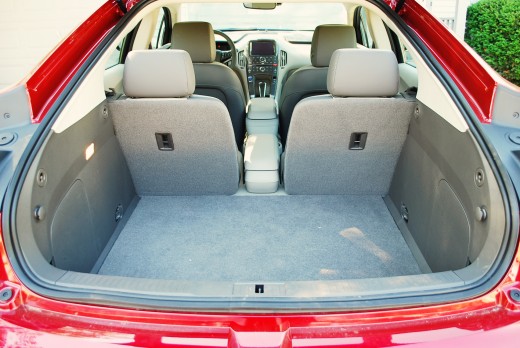 The interior was also incredibly nice. It has suede-like bucket seats for everyone (4 passenger) and a really spiffy looking dash with lots of great features.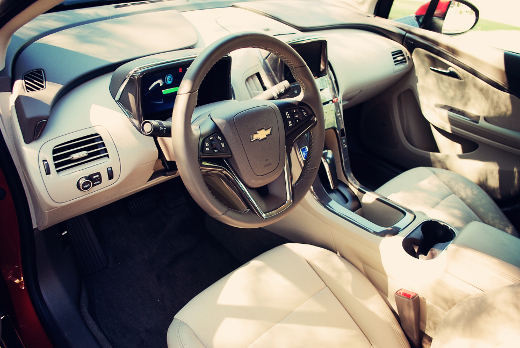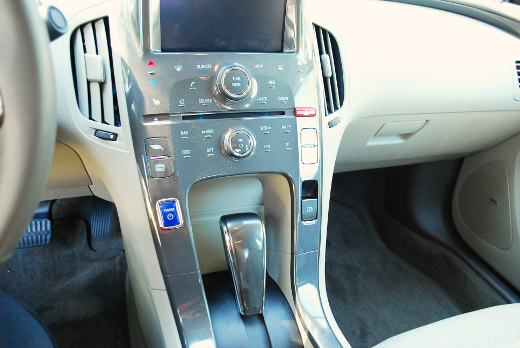 This is by far one of the nicest cars I have driven. I would be incredibly jazzed to own one except it has that all too common electric car problem..it only seats 4. But it does overcome the battery range issue by running on gas so that is a huge improvement. You can charge the car for about $1.60 per day and can charge it with a standard 120V outlet in about 10-16 hours. If you install a 240V outlet though you can reduce that by 4+ hours. Other than the passenger issue it would perfectly meet our needs and my biggest issue wold remembering to switch to gas occasionally so I don't have old gas sitting in it for too long. That is not a bad problem to have though. The Volt is practical and very economical in the long run. The sticker price is comparable to a hybrid but IMO the value is much better. This car definitely makes my list of green cars to buy for 2013.